The Tokyo Skytree, or Tokyo Sukaitsuri, is currently the second tallest structure in the world after the Burj Khalifa in Dubai. Standing at a height of 630 metres, the tower opened to the public in May of 2012 after nearly four years of construction and a cost of some 40 billion yen.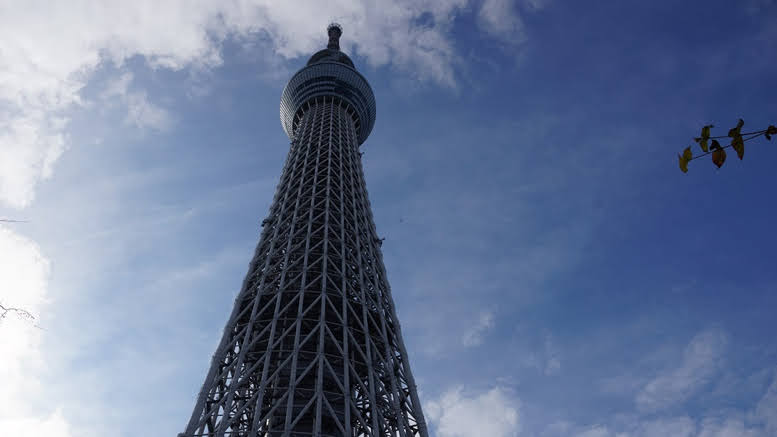 Located in Sumida, the tower serves as a broadcast mast, a series of restaurants and an observation tower. The observation decks have become one of Tokyo's "Must Sees" for tourists and Tokyoites alike. There are two different observation levels, one at the 350 metre mark that can accommodate 2,000 people at any one time, and another at the 450 metre mark that can hold up to 900 people.
Tokyo Skytree Town (or Tokyo Solamachi) is found at the base of the tower and is home to commercial and office facilities, an academic institute, exhibition halls, a dome theatre, a planetarium and even an aquarium. The incredible aquarium is known as the Sumida Aquarium and features the largest indoor tank in Japan, holding more than thirty five thousand litres of sea water. There are seals, penguins, jelly fish plus over ten thousand other sea creatures. Skytree Town's massive retail centre is filled with well over three hundred retail outlets, offering plenty of excellent shopping and all types of dining.
One interesting venue at Skytree Town is the World Beer Museum. More of a dining establishment and beer hall than a real museum, this unique bar is five themed pubs in one large venue. You can enjoy beer and cuisine from Germany, England, America, Belgium and the Czech Republic, all in the one pub. A bottle shop stocked with beers from all over the world is also on site, serving as the museum's souvenir shop.
The massive complex at the base of the tower is home to two railway stations at either end of the complex. Tokyo Skytree Station is at the west end of the complex and is operated by the Tobu Railway Company. This station was formerly known as Narihirabashi Station and was renamed by Tobu Railway, the developer of the Skytree complex. Oshiage Station is at the east end of the complex and is home to several lines.
Tokyo Skytree is about one kilometre away from Asakusa Station. Skytree Station (Station TS-02) is on the Tobu Skytree Line (formally Isesaki Line), swap from the Toei Asakusa Line (Station A-18) or Metro Ginza Line (Station G-19) at Asakusa Station. The most direct route from the JR Yamanote Line is to transfer to the Toei Asakusa Line at Shimbashi (Station A10) or the Tokyo Metro Hanzomon Line at Shibuya (station Z-10). Both these line stop at Oshiage (Skytree) Station (Station A-20, Station Z-14). The Oshiange Station is located at the opposite end of the complex to Tobu's Tokyo Skytree Station.