Kamakura is another excellent place to visit for a day trip from Tokyo; it is situated about 50 kilometres to the south west of the city on the Miura Peninsula. Located on Kamakura Bay, the beach offers superb surfing and is immensely popular especially during the warmer months. During the summer, the beach area takes on an entertainment area with lots of small outdoor bars popping up and plenty of music.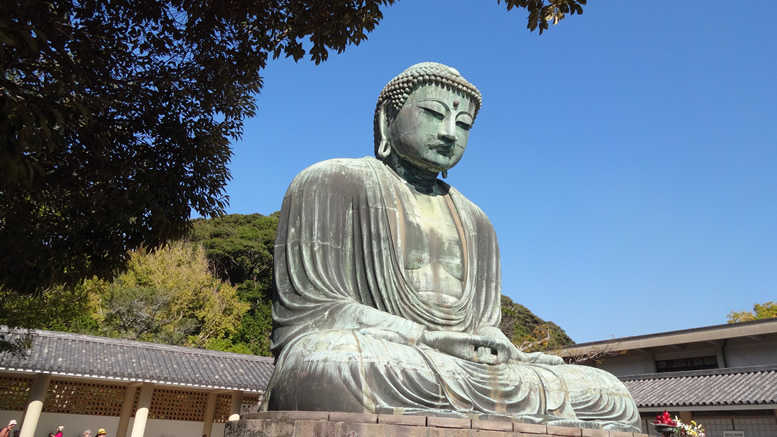 Kamakura has many notable shrines and temples including the Hase Dera which is home to Japan's biggest wooden statue of the goddess Kannon; it has a height of over 9 metres and is made of camphor wood. The Kase Dera was founded by Tokudo Shonin and dates back to 736. The Engakuji temple to the north of the city is reputed to contain one of the teeth of Buddha, and the bell at the Kenchoji temple has been designated a national treasure of Japan. The oldest temple is the Sugimotodera which was founded in 734.
The Tsuraugaoka Hachiman gu Shrine is the place to be (or not to be) on New Year's Day. It is estimated over a million people squeeze into the small area to see the first sun rise of the year. The shrine is fairly quiet most weekdays, but weekends it can become busy and is a popular place for traditional Japanese weddings; which are exceptionally beautiful and unique for visitors to take a peek at.
A local delicacy is the senbei crispy rice cakes; they are similar to the rice crackers we see in the west as biscuits. They can be found in many small stalls around the retail areas and are freshly cooked. Another Kamakura speciality is the biscuit shaped like a pigeon called Hatosabure, but who could pass up the chance to taste murasaki-imo sofuto, this oddly named item is just as interesting as it is a purple potato ice-cream. This ice treat might not look or sound too pleasant, but close your eyes and enjoy, it's quite tasty. For lovers of beer be sure to try the Kamakura microbrewery, they make an exceptionally tasty range of beers.
Many visitors take a journey on the Enoshima Electric Railway or Eno-den. This narrow-gauge railway runs to Fujisawa and gives some splendid views of the shoreline. Dating back over 100 years, the railway travels about 10 kilometres and offers an exciting way to see a few of the highlights of Kamakura. On a clear day you can get a magnificent view of Mt Fuji. It is possible to reach Tokyo from Fujisawa on the Tokaida Rail Line if you want to do a one-way trip. Fujisawa offers plenty of department store shopping and some excellent beaches including the highly popular Enoshima surf city.
Kamakura is easily got to using the JR Yokosuka line from Tokyo Station, the travel takes about an hour and trains leave every 10 to 15 minutes.