Mt Fuji is probably Japan's most iconic landmark and is easily accessible from the major cities in Japan. Standing 3776 metres this perfect conical dormant volcano is a significant cultural landmark for the Japanese and features in art, literature and legend. The volcano last erupted only 300 years ago in 1708 so knows one knows when she will start rumbling again.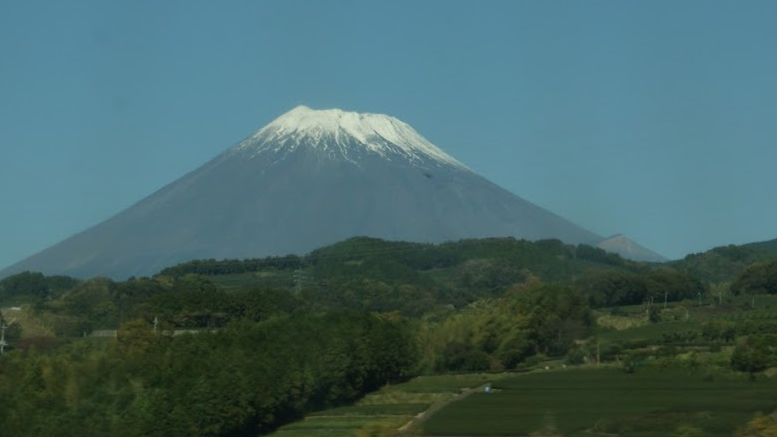 The mountain can be seen on a clear day from Tokyo and Yokohama and is a highlight of the Shinkansen train trip from Tokyo towards Nagoya. Our photograph of Mt Fuji was actually taken from the train in October when there was still some snow cap. We took the photo about 30-40 minutes out of Tokyo. Mt Fuji is about 100km South West of the centre of Tokyo.
For those who wish to get up close and climb the mountain, weekdays are the best option as weekends can be extremely busy. What is called the 5th station is the stop for climbing. Official climbing season is in July and August. If you just want to visit to take some beautiful photographs they are best taken from a far, as the mountain is immense. The areas around Lake Kawaguchi or Lake Yamanaka considered some are the best places for viewing and photography and offer some fantastic tourist facilities. Many photographers come away a bit disappointed as it is difficult to find that perfect day. The mountain can be covered in fog, smog or cloud for many days of the year; many people suggest early morning can be the best time to visit. Weather can change rapidly around Mt Fuji, so if you get the right opportunity start snapping because a few minutes later your chance might be gone.
Hakone is another popular place for sightseeing Mt Fuji and many visitors also visit the Hakone Tozan Railway which offers a beautiful train ride through the forests and valley around Hakone. Being Japan's oldest mountain railway; it provides easy transfers to another of the areas best attractions, the Cablecar to the National Park and Lake Ashi. The Hakone Ropeway linking Sounzan and Togendai is also an excellent way to see Mount Fuji in all her spectacle. This gondola ride takes about 30 minutes and leaves from around Gora Station one of the stops of the Hakone Tozan Railway.
There are plenty of tour operators who do bus trips to Mt Fuji, but it is quite easy to navigate your own way by train or bus. Bus will take much longer but might be easier for some people as the service is direct. You can catch buses to several different stops around Mt Fuji from Shinjuku Station. Train also leaves Shinjuku using the JR Cho line, Change at Takao to the JR Chuo Honsen Line then change at Otsuki to the Fuji Express. Depending on timetables the bus is the quickest option.