If you are looking for a short day trip to experience the Shinkansen bullet train from Tokyo, the small city of Odawara can make for an ideal trip. With a population of around 200,000 the city is located around 80 kilometres south west of Tokyo and is the gateway to the Mt Fuji area.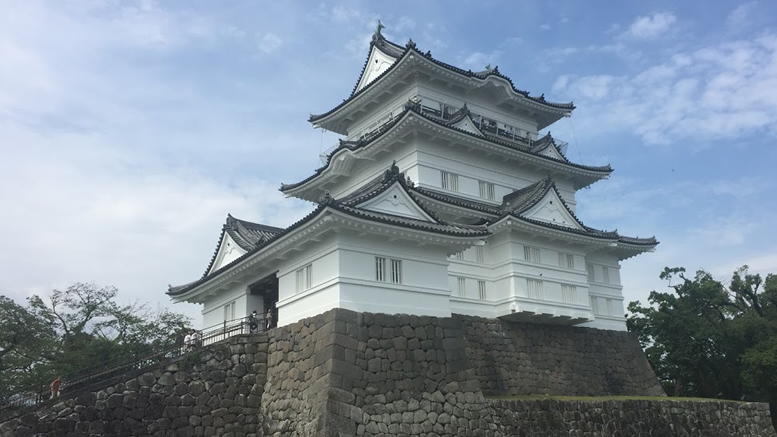 Odawara is part of the Tokaido & Sanyo Kyushu Shinkansen network and is easily reached from Tokyo Station or Shinagawa. The trip from Tokyo Station takes around 40 minutes and costs just over Y3000 for the one way journey unreserved with several services being ran an hour. Odawara is a perfect destination to experience the Shinkansen. The train starts to pick up serious speed between Shin Yokohama Station and Odawara, with speeds in excess of 200 kph reached during the 55 kilometres of line.
JR also runs regional and suburban trains back to Yokohama and Tokyo so you have the option of a cheaper and much slower option for your return journey.
Odawara Station is in the heart of the city's main shopping district and there are plenty of cafes, restaurants and specialty shops to enjoy. The highlight of Odawara is the Castle and surrounding parkland that is a short 10 to 15 minute walk from the main station.
The Odawara Castle tower is constructed on 11 metres of monstrous rock word and rises 197 metres over the parkland. The castle and its grounds have a rich history dating back centuries, spanning wars, earthquakes, fires and other important moments in Japanese history. With the current structure receiving a huge reconstruction in the 1960's. The interior of the tower houses a interesting museum with many historic pieces including armour, swords, pottery, historic documents and other fascinating artefacts. The top floor of the castle offers some spectacular views of the Boso Peninsula, Sagami Bay and the surrounding mountain ranges on a clear day.
The castle park lands are also well worth exploring, first developed during the 15th century, the grounds hold a magnificent gate with huge copper and timber doors, a moat full of huge carp and a children's amusement ground. The park also serves as a venue for festivals and celebrations throughout the year and is especially popular during the cherry blossom season in late March as well the Chrysanthemum Exhibition in early November.
While walking through the Odawara shopping district you will see many stores selling processed fish called kamaboko and umeboshi salted plums, two products that are traditional to the Odawara area. The kamaboko is cured white fish meat that is mixed with a variety of additives and steamed to form a sausage or loaf like product and often dyed with a red or even pink skin. The kamaboko is then sliced and usually eaten cold with dipping sauce or sometimes put on a stick and grilled. The crabstick found in western cuisine is a very similar product to the kamaboko.