Public transport is the best way to get around Tokyo, as the city has one of the world's largest rail networks. The city's rail networks are super reliable and efficient that makes it one of the most used systems in the world.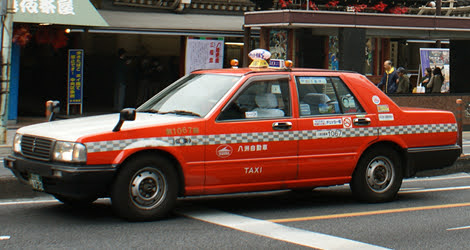 Like most Japanese cities, Tokyo's rail system is made up of a number of separate rail companies. This can be confusing to some new visitors to Tokyo, as getting to where you want to go may require leaving the station you currently are in and walking across the road to the other networks station to continue your journey.
Fortunately 90% of the places most tourists would like to visit fall near JR's Yamanote line. This line is a loop line that circles central Tokyo and has stations at many of the major city suburbs. So important to the city is the Yamanote line that most of the stations on the line have become more famous than the suburbs the serve.
It takes around one hour to do a full loop on the Yamanote line, so it's best to group your day's activities at stations that are near each other. With a system as vast as Tokyo's rail system, there are plenty of short cuts to get around too. From Shinjuku, you can cut across the centre of the Yamanote loop on the Chuo Rapid to Tokyo or the Chuo Sobu line to Akibahara.
There are also 2 extensive subway systems known as the Tokyo Metro and Toei Subway. These subways both have an extensive network inside and outside the Yamanote loop, if you can't get to it on the Yamanote line it most likely accessible available on these subway networks.
Other rail networks also exist in Tokyo; the most common you may come across are the Yurikamome and TWR Rinkai Lines that service the island of Odaiba. Keisei Electric Railway also operates lines in some outer suburbs of Tokyo; their Keisei Main Line connects Ueno to Narita Airport in under an hour on their Cityliner or 36 minutes on their Skyliner express services.
It's best to be planned well ahead of where you want to go and perhaps carry a map of all the rail networks as you may not find a competitor's lines shown on the map at your station. There is often many ways to get from point A to point B. One example is a Tokyo tourism guide that shows 4 ways to get from Shinagawa to Disneyland. The options vary from 19 to 29 minutes and in price from 290 yen to 660 yen; with the cheapest method being the fastest.
If you are in Tokyo for more than a few days, you may find a prepaid ticket or card more convenient. JR's prepaid reusable contactless smart card called Suica is an increasingly popular option that can also be used in some shops and vending machines instead of cash. The Pasmo smart card is similar to Suica but is sold in non JR stations. These two systems are interchangeable on most lines and are extensively being made compatible with rail smart card systems in other parts of Japan. If you plan to use a lot of JR Lines exclusively for a day, an all day Tokyo Metropolitan District Pass (Tokunai Pass) for 730 yen would be a substantial saving. The Japan Rail Pass is often popular with tourists but be warned, it is only valid on JR's rail lines.
Also on Happy Jappy
Keisei Electric Railway
Narita Express
JR Yamanote Line
JR Chuo Line
JR Keihin Tohoku Line
Ginza Metro Line
More local Train and Subway info
JR Shinkansen bullet train
Japan Rail Pass