The Chuo Main Line is operated by JR and crosses across Tokyo's centre. There are two types of train which operate on this line, the Chuo Line (Rapid) which are orange and the yellow Chuo-Sobu local trains. It can be a fantastic alternative to the Yamanote Line and a shortcut across the city by connecting Shinjuku to Tokyo or Akihabara.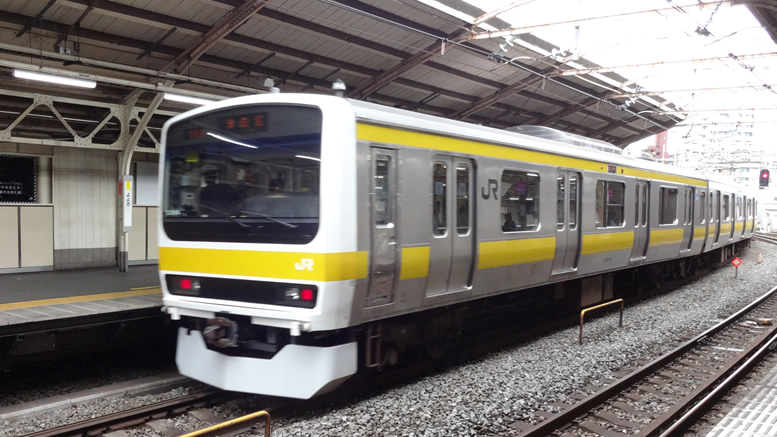 The lines stops depend on which train you board, the orange Chuo Rapid trains stops at Shinjuku, Yotsuya, Ochanomizu, Kanda and Tokyo Station, while the yellow Chuo-Sobu local trains stop at all stations between Shinjuku and Ochanomizu and then continue to operate on the Chuo-Sobu Line to Chiba. The line actually stretches south to Nagoya and into the Tama Region, but the visitor to Tokyo will usually stay within the city limits, so we will note the notable stops in the city area.
Starting at Shinjuku, the home of the large entertainment and shopping district, the train travels to Yoyogi where visitors can visit the Meiji Shrine and Yoyogi Park. Sendagaya is the next station followed by Shinanomachi; only the yellow trains stop at the latter three stations. Yotsuya is next followed by Ichigaya which is a few minutes' walk for the Yasukuni Shrine. Next up is Lidabashi and the Tokyo Dome city of Suidobashi. With the exception of Yotsuya, the orange rapid train speeds past all these stops until it gets to Ochanomizu, and this is where the yellow trains veer off on the Chuo-Sobu Line. The orange rapid train heads from Ochanomizu towards Tokyo Station stopping at Kanda beforehand on the Chuo Main Line. Tokyo station is a great stop for visits to the Imperial Palace and Marunouchi, or to catch the Shinkansen bullet train.
The yellow Chuo-Sobu train's next stop is the electrical and computer town of Akihabara, followed by Ryogoku, the home of the Ryōgoku Kokugikan Sumo Stadium and Edo-Tokyo Museum. After this stop, the train connects to the eastern city wards and onto the Chiba Prefecture.
As the Chuo Line cuts across the centre of the Yamanote loop from Shinjuku and Yoyogi to Akihabara or Kanda and Tokyo Station, it can be a handy shortcut depending on your destination. The Sobu trains stop at all 10 Station between the two sides of the loop while the rapid trains only stop at 5 stations.
Also on Happy Jappy
JR Yamanote Line
JR Chuo Line
Ginza Metro Line
Getting around Tokyo
More local Train and Subway info
JR Shinkansen bullet train
Japan Rail Pass