The Ginza Line was the first underground railway system in Asia. It was developed after a businessman called Noritsugu Hayakawa visited London and thought it would be a terrific idea to have a subway in Tokyo.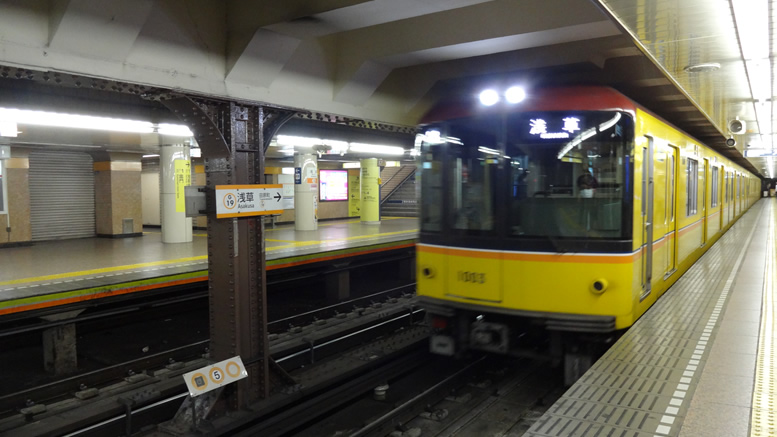 Hayakawa founded the Tokyo Underground Railway Company and started the three year construction in 1925. Back then the Ginza line was just a 2.2km line between Asakusa and Ueno. Since then the Ginza line has become one of Tokyo's most prominent lines taking in the wards of Shibuya, Minato, Chiyoda, Taito and Chuo linking Asakusa with Shibuya. Today the line uses 38 trains with six carriages each and has a maximum speed of 80kmh along its 14.3 kilometres of track.
There is a train stopping at every station every two minutes in peak hour and every three minutes other times. Now you need not wait for than a few minutes for the next train, unlike the months after opening, when people lined for 2 to 3 hours to have a chance to ride this fascinating new transportation.
Being the oldest line in Tokyo, you may find the stations are closer to ground level at many of its and some stations are quite small and narrow with much shorter platforms compared with those of newer lines. The Ginza line is easily identified on maps with an orange line and the letter G. The stations are numbered from East to West with No 1 at Shibuya to No 19 at Asakusa. Today the line is operated by Tokyo Metro.
Some of the more notable stations include.
Shibuya – The giant scramble crossing, night-life district and shopping
Aoyama-itchome – Luxury car dealerships and Tokyo's biggest cemetery
Shimbashi – Access to the Yamanote Line, and Yurikamone Line to access to Odaiba
Ginza – Tokyo's luxury shopping strip
Suehirocho – Few minutes walk to the electronics town of Akihabara
Ueno – Ueno Zoo, Lake, Museums and park lands
Asakusa – Sensoji Temple, Kappabashi Kitchen District and Asahi Beer Headquarters
Also on Happy Jappy
JR Yamanote Line
JR Chuo Line
Ginza Metro Line
Getting around Tokyo
More local Train and Subway info
JR Shinkansen bullet train
Japan Rail Pass