The Keihin Tohoku line runs parallel to the Yamanote Line around central Tokyo, but continues on to Yokohama and beyond in the south, and Saitama City in the North. The line doesn't offer the fastest service to get to Yokohama, but it does give you a few decent sight seeing options along the way.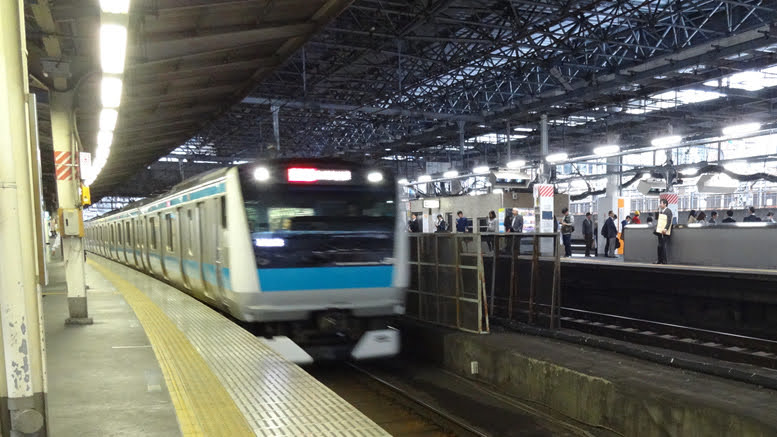 From the central Tokyo area of Ueno, you can visit Ueno Park or the Ameyoko Markets which are all close to the station. Okachimachi is the next station south which is at the bottom of the markets. Akihabara is a popular stop, as this is the vast electrical town, jammed packed with cameras, computers and every conceivable electronic device. Kanda follows then Tokyo Station which is home to the Shinkansen and close to the Imperial Palace.
Yurakucho follows and is walking distance to the glitzy Ginza shopping precinct. For visitors wishing to visit the Tsukiji Fish Market or Shiodome Shiosite stop off at Shimbashi.
Hamamatsucho is next up and is home to the monorail link to Haneda Airport, Hamarikyu Gardens and is also around 1klm south of the Tokyo Tower and Zojoji Temple.
Next on the Journey is Tamachi, followed by Shinagawa which is only a few minutes walk to the beautiful Sengqakuji Temple. There are 7 more stations on the line until you reach Yokohama; which is Japan's second most populated city after Tokyo.
Technically after Yokohama, the line changes name to the Negishi Line, but nearly all of the services continue through on either line. If you want to go past Yokohama station and visit the Minato Mirai 21 district and Landmark Tower stay on the train another stop and get off at Sakuragicho. Kanni is the next station and is home to the baseball stadium. Another stop will get you to the huge and fascinating China Town and the fabulous shopping precinct of Motomachi.
Also on Happy Jappy
JR Yamanote Line
JR Chuo Line
Ginza Metro Line
Getting around Tokyo
More local Train and Subway info
JR Shinkansen bullet train
Japan Rail Pass