The Narita Express is an express train connecting several major JR stations in central Tokyo to Narita Airport in just under an hour.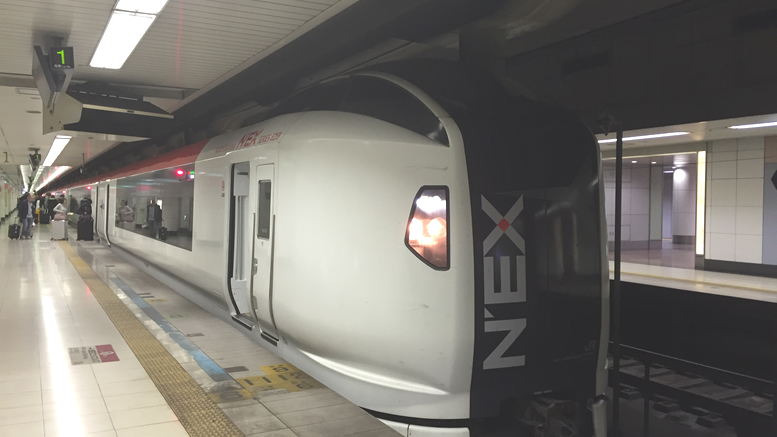 Often shortened to just NEX, the Narita Express is one of the most common ways to get to the popular stations of Tokyo, Shibuya, Shinjuku, Ikebukuro or even Yokohama. Keisei Electric Railway operates a few competing services to the Narita Airport. Keisei's services boast a cheaper fare and faster travel times but with the limitation of only connecting to Keisei's Ueno Station.
Before you leave for Japan, you would probably be best to decide on the best method of getting from the airport to your hotel before you even step foot on the plane. While the NEX roughly follows part of the Yamanote Line, once it gets to central Tokyo it does not stop at all stations being an express train. Fortunately the stops it does stop at are all reasonably popular tourist spots with plenty of hotels nearby. Alternatively you may need to transfer to a general commuter train to head to your hotels nearest station.
The NEX takes 53 minutes to reach Tokyo Station and during most of the day services run every 30 minutes. The train uses all reserved seating, and so predictable is the service of Japanese rail that the corresponding carriage number on your ticket is painted on the platform, so you can wait for the carriage door to come directly to you.
Purchasing of tickets can be done at the airport terminal stations or at any of the stations the Narita Express services. One ticket that is well worth considering is the Suica & NEX combo. This combines a 2000 yen Suica smart card and a one way NEX ticket for only 3500 yen; this combo can save you 1400 yen or more. The Suica and NEX combo can only be purchased at Narita airports JR East Travel Service Centers, and a non Japanese passport is required to qualify for the special fare. The service centers are located not far from the JR ticket gate at each of Narita's 1 and 2 Terminal. Staff in the service centres are helpful and do know a bit of English.
The Suica smart card can be used on JR East lines in the Tokyo metropolitan area as well as for subways, buses and the Tokyo Monorail that connects Haneda Airport with Tokyo. In addition to the Tokyo area, the Suica can be used for certain transportation systems in Sapporo, Nagoya, Osaka, Hiroshima and Yokohama.
NEX Standard fares were at the time of writing was 2,940 yen for Tokyo Station, 3110 yen to reach Shinagawa, Shibuya, Shinjuku and Ikebukuro or 4180 yen to reach Yokohama.
A non express JR commuter train, known as the Airport Narita Rapid, also services JR's airport terminal. It takes around 90 minutes to reach Tokyo Station and fares are about half of that of the NEX. Trains on this service run less frequently than the NEX, are less comfortable and stop at more stations along the way.
Also on Happy Jappy
Keisei Electric Railway
Tokyo Narita Airport
Haneda Airport
Getting around Tokyo