Ginza is Tokyo's fashion capital, just as Fifth Avenue is to New York, or Bond Street is to London. It is home to many of the world's leading and most prestigious fashion and iconic brands. Sometimes referred to as The Ginza; the precinct is also home to some of the world's most expensive real estate and is the place for the wealthy to be seen and shop. Having a presence in Ginza is more about a statement of success and making it in Tokyo as it is operating a business.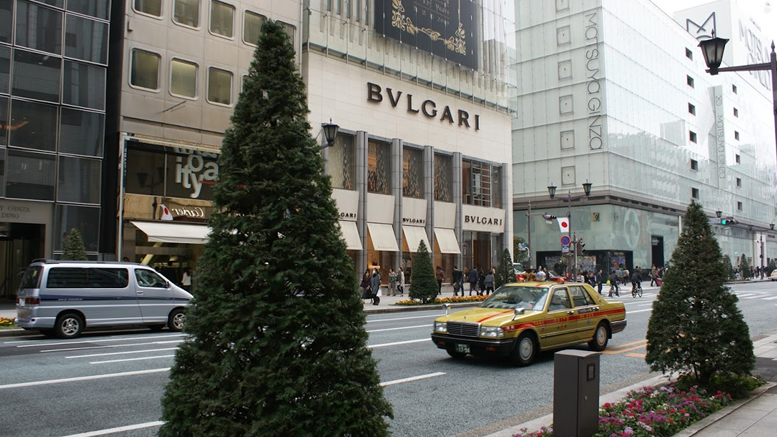 Ginza is home to many of Japan's finest department stores; including Matsuya, Matsuzakaya, Wako and Mitsukoshi which can all be found on Chuo Dori along with leading brand names like Cartier, Chanel and Bvlgari. Even Apple opened their first Japan store here on Chuo Dori. Apples products here sell as a fashion statement as much as a piece of technology. Like the five story glass and jewel like Apple store, many of the leading brand names along the Chuo Dori are architectural statements with incredible modern designs of steel, glass and high tech lighting effects.
Ginza is also known for its luxury hotels including the Hotel Seijo Ginza, Hotel Monterey, Ginza International and Courtyard Marriot to mention a few. Some of the famous restaurants in Ginza include Iron Chef Michiba Rokusaburo's restaurant, Rokusan-tei and Hiroyuki Sakai's La Rochelle, which is on the 32nd floor of the Toho Seimei Building. For coffee lovers, you can't go past a Ginza institution, Ginza Café Paulista which is in the Nagasaki Centre on Ginza 8-9. This historic café dates back to 1909 and was a favourite of John Lennon and Yoko Ono on their visits to Tokyo.
Ginza comprises of eight blocks, from 1-Chome to 8-Chome, with the Chuo Dori strip being around the centre and the most prestigious. This wide tree lined boulevard is closed to traffic on Saturday and Sunday's; it attracts tens of thousands of people who flock to the area to shop, people watch or enjoy the atmosphere. Al fresco dining is set up in the centre of the street with deck chairs and other public seating, where people can enjoy reading books or soaking up the sun.
Ginza is one thing during the day, but an entirely different experience during the evening when the incredible neon and massive video displays truly come to life, lighting up the night sky. All the leading brands advertise with a strong emphasis towards beer, telecommunications and electronics brands.
The most dazzling intersection at night is the prestigious intersection Chuo Dori where it meets Harumi Dori. These crossroads are home to the Wako and Mitsukoshi department stores and the Nissan Gallery. This intersection is renowned as one of the most photographed places in Tokyo, both day and night.
Ginza is not only for the rich and mega rich as there is plenty of affordable shopping, dining and accommodation for the normal person. It is a must for any visitor to Japan just to see the beautiful shop window displays and extravagance. There are plenty of attractions close by, and lots to do in and around the precinct. Try to plan your visit on the weekends, sure it will be busy, but it is well worth becoming a part of the open street experience, and don't leave until the neon and video screens turn night into day.
For a remarkable food experience visit the basements of many of the large department stores, they have the most astonishing food markets, selling just about everything you can imagine and plenty you can't. For only a few hundred yen, you can have some of the tastiest and most beautifully prepared food you have ever seen, the choice is breathtaking.
The Ginza area is easily accessible by rail. In the heart of the precinct is the enormous underground Ginza Station. This station is connected to the Marunouchi (M16), Ginza (G09), and Hibiya (H08) Subway lines. Alternatively you may walk a few block to the area from the JR Yamanote line or JR Keihin-Tohoku Line's Yurakucho Station; Tokyo Metro trains also serve Yurakucho Station on the Yurakucho Line (Y18). Shimbashi Station is at the other end of Chuo Dori and is also an excellent option if you plan to walk Ginza's streets from the Yurakucho area. Shimbashi Station is home to a few lines, most notably JR's Yamanote, Tokaido Main and Keihin-Tohoku Lines. Tokyo Metro's Ginza (G08) Line and Toei's Asakusa (A10) also serve Shimbashi. Outside Shimbashi Station is the starting point of the elevated train known as the Yurikamome, this line can take you to the island of Odaiba.