Apple is one of the world leaders in technological innovation. Their products and have become as much as a fashion accessory as a piece of cutting edge techno gadgetry. Once only a computer company, today Apple are the benchmark for phones and MP3 players with their iPod range and their incredible iPhone and iPad.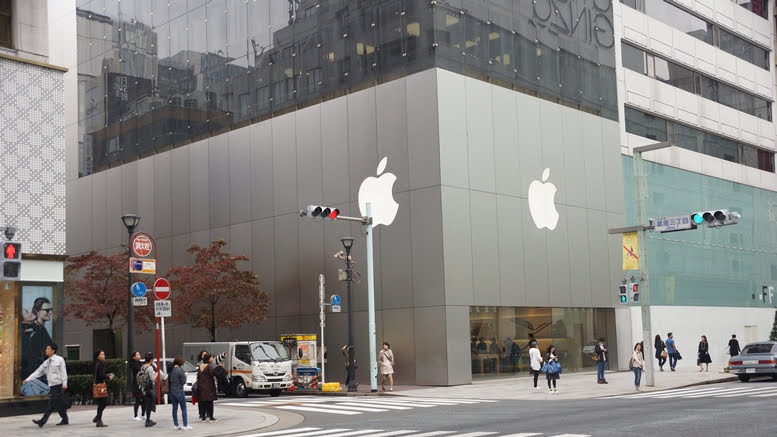 Instead of being located in Aikihabara with all the electronic stores, Apple has chosen to focus on their strong brand image and locate their iconic premier Japanese store, their first Apple store outside the USA, in Ginza. Here, they are standing shoulder to shoulder with the likes of Gucci, Dior, Louis Vuitton, Prada, Cartier and the other glitzy brands which call Ginza home. The centre is immensely popular, especially on the weekends, when thousands of people flock to the centre to get their hand on Apple's latest and most desirable products.
When Apple launch a new product, the Tokyo Ginza store usually features the longest line, with thousands queuing up for hours to be one of the first to own the latest gadget. Even on normal shopping days, there are usually a group of people waiting in line for the store to open to the public.
Opening in November of 2003, the striking glass and stainless steel six floor centre has a showcase of Apple's latest line-up of phones, mp3 players, computers and software, plus levels of accessories you can plug into your device. The centre covers about 20,000 square metres of floor space. And there are even floors dedicated to training with plenty of courses. Many of theses courses are free where you can learn how to use the latest Apple software application or equipment.
The centre features large tables filled with dozens of computers and hand held devices, so you can try out their latest offering before purchasing. The centre makes an excellent place to check your emails, or connect to the free wi-fi service so you catch up with your mail and friends back home. On the 4th floor is a large internet café that is free and open to about 9PM every night. At the back of the store is two glass elevators, which by Tokyo standards run slowly, this is deliberate, to give people a memorable experience and calm them before entering the floors showcase. The lift features a highly innovative video pillar showing what the floor has to offer in an amazing display of computerised animation. The lift features no buttons as the lift just stops at every floor which is open to the public.
The Ginza Apple Store can be found on Ginza-dori, on the corner of Matsaya-Dori Street in the main Ginza shopping strip on Ginza 3. The store is only a one minute stroll from the Ginza subway station (G09) or three minutes from Ginza-itchome Subway (Y19). The JR line Yurakucho Station will take about 6 to 8 minutes' walk.
Due to the popularity of the Ginza store, a second smaller Tokyo store has opened across the city in Shibuya. More Apple stores have also opened in other parts of Japan in Nagoya, Fukuoka, Osaka (Shinsaibashi), Sapporo and Sendai.
For more information on the Ginza Apple store visit http://www.apple.com/jp/retail/ginza/