Ikebukuro is home to some of Tokyo's and, in fact, some of the world's largest department stores. Here, you can buy just about everything.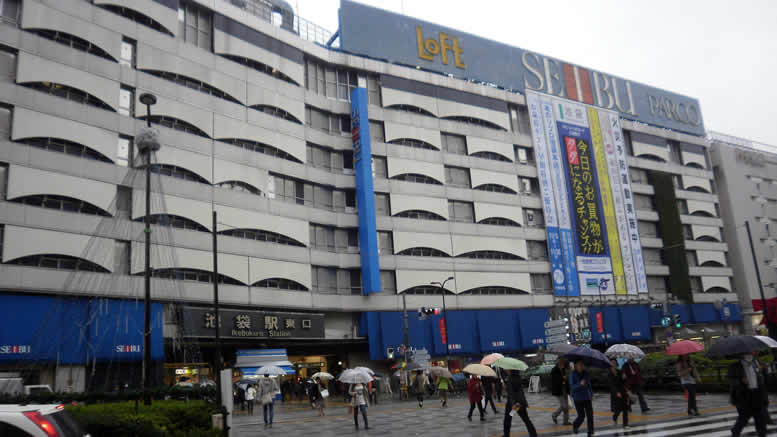 At the west exit of the Ikebukuro station, is the huge Tobu Department store that is owned by the Tobu Group, operators of several of the city's railway lines. This department store like most of the other large stores is focused on high fashions and big-brand names, catering for discerning customers with expensive and exclusive tastes. Hello Kitty fans will love the 7th floor where the "Sanrio Marchengallery" sells all sorts of Hello Kitty merchandise.
Seibu Department Store is on the east exit of the Ikebukuro Station and is also owned by a railway operator, this time the Seibu Group. Seibu dates back to 1949 and now is one of the larger stores in Japan. They have also branched out of Japan to other regions in Asia including Hong Kong.
If you are interested in electrical goods, a few electrical stores exist at most exits of the station. One of the largest electrical stores in Japan, Bic Camera, is located at the east exit of Ikebukuro Station. As well as cameras this monstrous store has white goods, stereo systems, mobile phones and just about every imaginable and many unimaginable electronic gadget and accessory. As with most of Japan, all of the prices are marked on the goods, and there is very little room for bargaining, so it is easy to see what the item costs.
Mitsukoshi Ltd, which has a history back to 1673, also has one of their many Tokyo stores at the east end of the station. Mitsukoshi has many floors of high fashions and house ware, and like many of Japan's department stores, its basement is filled with some of the tastiest takeaway foods found anywhere in Tokyo. There are thousands of square metres of hot and cold sweets and savouries all freshly prepared in front of your eyes. For those wanting a more formal meal, upstairs you will find the restaurant floor where there are dozens of traditional and modern Japanese cafes, restaurants and eateries plus several western and Chinese style diners.
Most of the stores open at 10 in the morning and stay open to 8 or 9 at night 7 days a week. The weekends are the busiest days to shop in the area when thousands flock to the stores.