Toyota Amlux is another of Toyota's large presence in Tokyo. Amlux is a bit more of a technical centre and museum than the more entertainment based Megaweb at Odaiba.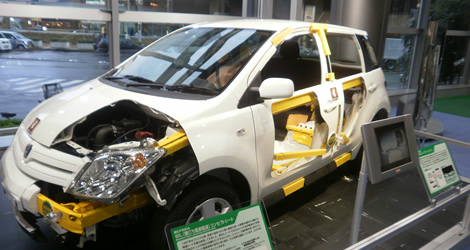 This centre is basically a cross between a huge dealership without the sales staff and a car museum. This four level exhibition area has dozens of current model Toyotas to touch and sit in, plus some very informative displays on current and future technologies.
The new fuel saving hybrid system that Toyota has developed into several of their vehicles is one of the bigger exhibitions at the Amlux. Step by step display boards, cutaway components, videos and interactive exhibits demonstrate, in both Japanese and to some extent in English, how this remarkable system works to conserve energy, in turn helping our fragile environment.
Safety is another key message at the centre. There are many safety systems on display, air bags, seat belts, crumple zones, and other vehicle design that are now so important in our modern vehicles.
There are a quite a few places in the centre where the exhibits are geared especially for the young, with plenty of big buttons and dials for them to play with. There is colouring in areas, and lots of fun to be had, even for kids not very interested in cars.
In the centre of Amlux is a huge chrome ball, looking a bit like a giant spaceship, it houses the Toyota Amlux theatre, it's a state of the art theatre experience with surround sound, and worth taking a look at.
The Amlux is also a great opportunity for Toyota to show off its products; there are about 70 vehicles on display, some are special show cars or racing cars, but the majority are the products they sell. It is a very good chance to see some of the gadgets, gimmicks and great ideas that are in the modern Japanese car. Many of these models and features never see the light of day outside Japan, and quite a few features are years ahead of models sold in our own country.
Admission to the centre is free and will easily fill in a good hour, even if you have been to Mega Web.
The centre usually opens from 11:00 am to 7:00 6 days a week, being closed Monday or Tuesday if Monday is a Public Holiday.
Getting there by train is easy, from the JR Ikebukuro Station take the East exit and cross over Green Dori and Sunshine 60 Dori. Take the pedestrian underpass under the Metropolitan Expressway No.5 to the front of the building. (Approximately 7 minutes.)
From the Higashi Ikebukuro Station on the Yurakucho Subway Line go out of the NO.2 exit and follow the Metropolitan Express-way No.5 for approximately 400 metres.(Approximately 7 minutes.)
UPDATE: The Toyota Amlux site has now closed, with Megaweb at Odaiba now taking over the roll Amlux played.
Official site: http://www.amlux.jp
Also on Happy Jappy