Meaning "inside the circle" Marunouchi is essentially that, the centre of Tokyo. The district is home to Tokyo's main financial district, the Imperial Palace, plenty of cultural centres and some of the city's most magnificent parks and gardens.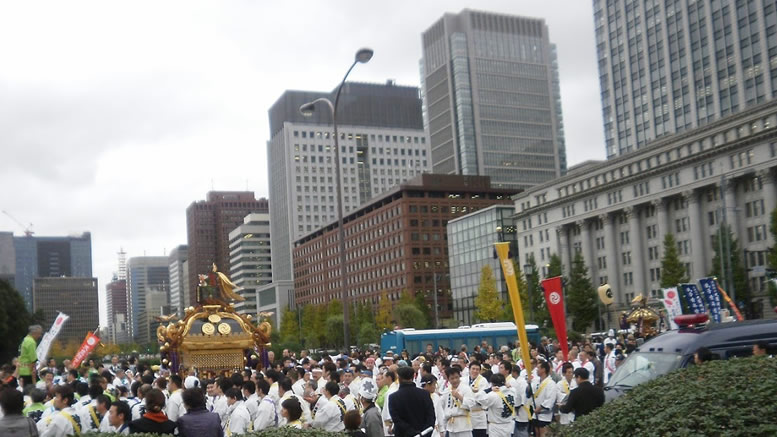 Mauronouchi is the first place many visitors to Tokyo experience, as it is home to the massive Tokyo Station. The station is a major Shinkansen Bullet Train terminal, as well as being one of the city's busiest suburban rail stations. Built in 1914 the station now handles around 3000 trains a day.
Located east of the station is the Tokyo International Forum, this huge piece of impressive architecture serves as a group of halls and an exhibition space for conferences, meetings and displays. Although there is not a lot to see for the general visitor, the forum's remarkable modern design and helpful tourist information desk make the center well worth the visit. For those visiting on weekends, there is often a farmers market in the forecourt which is particularly interesting.
Just a couple of blocks west of the International Forum you will find one of the treasures of Tokyo, the huge grounds of the Imperial Palace which is surrounded by a moat. The palace is only opened to the public on New Year's Day (Jan 2) and the Emperor's Birthday (Dec 23). The main palace, or Kyūden, is the private residences of the imperial family plus an archive museum.
The public can visit the Kitanormaru park to the east of the palace which is home to the famous Nippon Budokan Hall, the National Museum of Modern Art and the Science Museum of Tokyo. The Budokan's primary purpose is for martial arts and was built for the judo events of the Tokyo Olympic Games in 1964. Today, Budokan is fondly remembered for memorable concerts like The Beatles, and famous live albums from Kiss, Judas Priest and Cheap Trick to name a few.
The moat circled East Garden or Kokyo Higashi Gyoen is another part of the precinct open to the public. This magnificent garden is especially popular during the cherry blossom season of March and April. The garden is open five days a week and is usually closed on Mondays and Fridays. The garden was the former site of the castle's innermost defence called the honmaru. The garden is a must see for any visitor to Tokyo. The palace grounds are just stunning, especially around the Ninomaru Japanese garden which is a majestic photo opportunity and offers splendid views of the palace.
Tokyo Station is the main terminal for several JR commuter lines like the popular Yamanote and Chuo lines as well as several Shinkansen lines and the Narita Express. Tokyo Metro also has a terminal underneath the station on their Marunouchi Line. The Marunouchi side of the station is one of only a few examples of prewar architecture that still exist in Tokyo.