Tokyo's Imperial Theater is a theatre located opposite the Imperial Palace's detached court gardens and the palace complex moat. The Imperial Theater is noted for being the first western style theatre in Japan, the building also incorporates the Idemitsu Museum of Arts.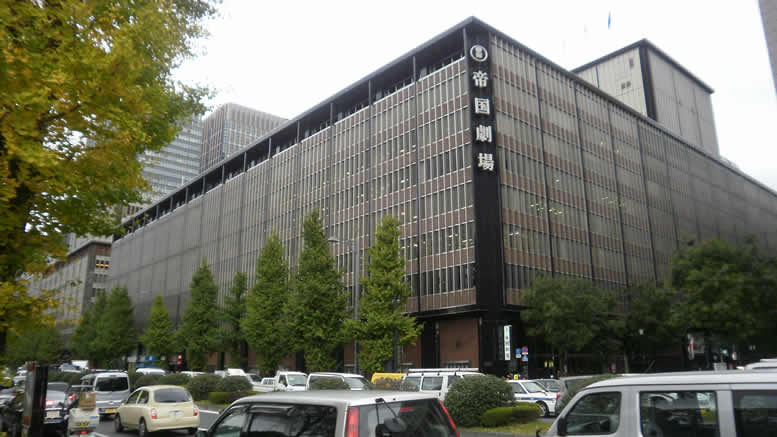 The theater was first opened in 1911, although the present theater complex was built in the mid 60′s and hosts everything from local production of big Broadway musicals like Rent, Les Miserables or Miss Saigon through to local production and films.
The theater is owned by the Toho group, one of Japan's largest film companies. A gift shop on site sells plenty of DVD and CD's of the company's and the Imperial Theater's work.
Also part of the theatre building on the 9th floor is the Idemitsu Museum of Arts, this is an exhibition hall for the Idemitsu Collection. The hall houses special exhibitions around six to seven times a year, with themed exhibitions of selected works from the Idemitsu Collection of Japanese painting and calligraphy, and East Asian ceramics. Other attractions include a year-round exhibition of major works by the French master of religious paintings Georges Rouault as well as "the works" by the Norwegian painter Edvard Munch.
The Imperial Theater is located at 3-1-1 Marunouchi and is only a few metres from Yurakucho Station (Y18) on the Tokyo Metro Yurakucho Line or Hibiya Station (I08) on Toei's Mita line. Hibiya Park is only a few blocks away along with the Hibiya stations (H07) (C09) of Tokyo Metro's Hibya or Chiyoda Line. From Tokyo Station head out the Marunochi exit and walk two blocks towards the Imperial Palace's Kokyogaien Garden and follow the gardens south for 5 blocks. The theater overlooks the gardens on Hibiya Dori.