Opening in 1997, the Tokyo International Forum is a masterpiece in modern engineering and design. With 11 stories above the ground and 3 below, the centre rises 60 metres from the street and housing over 145,000 square metres of floor space. The centre houses an amazing glass and steel atrium which is open to the public. Located in the atrium is a very useful information booth, with a large collection of Tokyo information. The staff on this information desk are very helpful and are quite good with English.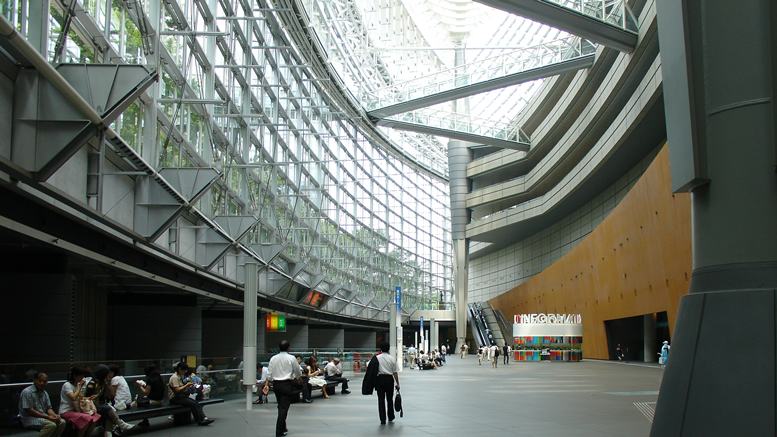 The forum is a collection of halls and exhibition space, many with flexible spaces where all sorts of events, conventions and meetings are held. The largest of the seven halls can hold 5,012 people seated, and there are some 33 conference rooms which also have access to the state of the art audio visual equipment as you would expect from such a magnificent Japanese showcase.
The forum building also has a range of shops, cafes and restaurants to cater for the thousands who attend the centre each day. There are also travel agencies, parking, childcare, fax and printing services and facilities for people with physical challenges.
The Tokyo International Forum boasts some fine artwork, with a collection called A Boat of Diversity, named after the boat like shape of the centres glass atrium, there are works by over 50 renowned artists including John Duff, Anthony Caro and Richard Long to name a few.
Another attraction at the centre is the Mitsuo Aida Museum; this centre celebrates the work of calligrapher and poet Mitsuo Aida. This large and precious collection moved from Ginza in 2003 to its new location at the Forum.
Getting to the Forum is a relatively easy task by rail, Yurakocho Station is only a minutes' walk. Tokyo Station takes about a 5 minute walk from the B1 concourse while Central Ginza is about a six minute walk away.
Official site: http://www.t-i-forum.co.jp/english/
Mitsuo Aida Museum: http://www.mitsuo.co.jp/museum/foreign/index.html