Odaiba, or sometimes known as just Daiba, is a large artificial island in the middle of Tokyo Bay reached by the Rainbow Bridge. Constructed in the 1850's by the Tokuguwa Shogunate, Odaiba was originally a fortress to protect Tokyo from sea attack. Today, Odaiba is a futuristic precinct with some pretty dramatic architecture. Odaiba is home to a range of retail and leisure based activities.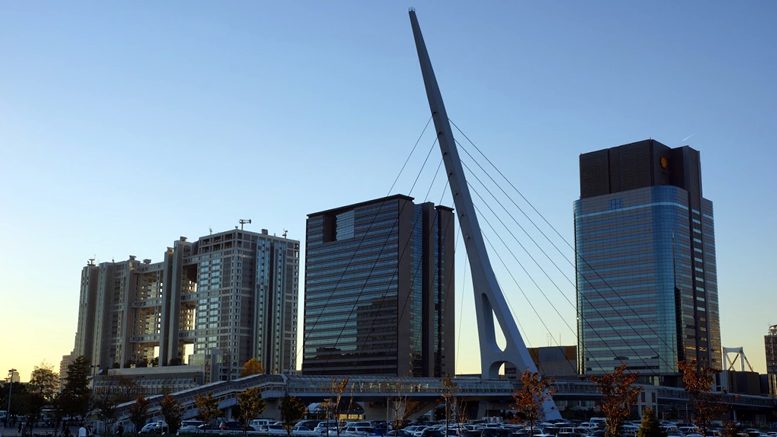 The area's first redevelopment came in 1928, when Battery no 3 was transformed into the Metropolitan Daiba Park. The park is still in existence today. During the mid 1980's, there were grand plans to build a 10 billion dollar utopia of modern living with homes for over 100,000. When the Japanese economy crashed in the early 1990's, the dream became a non event with the area becoming pretty much a wasteland.
The late 1990's brought new prosperity to Tokyo and soon the area started to develop, although not as grand as the earlier plan. The area was rezoned in 1996, and new commercial districts began to spring up. Fuji TV moved their headquarters to the precinct with a futuristic metal building; many other big corporations followed along with hotels, shopping malls and museums.
Now that Odaiba had more attractions and malls, Tokyoites soon flocked to the area. The Tokyo Big Sight Exhibition Hall with its four huge upside down pyramids opened in 1996. Palette Town with "Daikanransha", one of the world's largest Ferris Wheels standing at 115 metres, opened in 1999. More huge attractions followed including Sega's Joypolis theme park,  Little Hong Kong at Decks, Toyota Mega Web and Venus Fort with its interesting ancient world theme facade.
The Museum of Maritime Science or "Fune no Kanakukan" with its nautical themes and huge swimming complex is another of the family-friendly activities to be had on Odaiba. The "Mirakan" Emerging Science Museum is an interesting and innovative science museum that is home to robotics and other amazing Japanese technology, that will interest adults and children alike.
One interesting artwork on Odaiba is the scale statue of New York's Statue of Liberty. She proudly stands in front of the spectacular Rainbow Bridge. The statue was originally installed to commemorate the year of French in Japan back in 1999, but became so popular it was replaced with a permanent statue a little later.
The precinct is well serviced by public transport, with both the Shuto Express way and the automated Yurikamone transit system linking central Tokyo via the Rainbow Bridge. There are also various ferry services and buses linking the surrounding area. The cheaper Rinkai subway line also serves Odaiba, but we recommend using the Yurikamone elevated line for the views off the Rainbow Bridge. You can transfer to the Yurikamone via its terminal outside Shimbashi Station on the JR Yamanote, Keihin-Tohoku and Tokaido Main Line or Tokyo Metro's Ginza and Asakusa Line.