The headquarters of Fuji TV is one of the most striking buildings in all of Japan. The buildings major focal point is a futuristic metallic clad building featuring a massive silver ball 32 metres in diameter protruding out of the upper floors of building. The ball weighs in at an estimated one thousand, two hundred tons and was actually built on the ground before being lifted into position some 123 metres off the ground. The ball serves as an observation deck offering spectacular views across Tokyo Bay and the Odaiba precinct.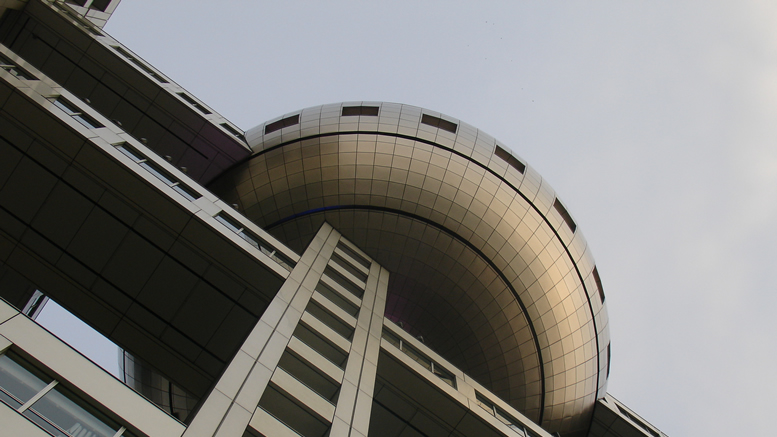 Visiting the observation deck was originally free but now it has a small charge to enter, this has helped eliminate the often huge crowds from re-entry over and over on the same day. Even now with a modest charge, the waiting time can sometimes be substantial.
The building consists of 25 floors and was designed by Japanese Architect Kenzo Tange, taking nearly three years to construct using the latest earthquake proof technologies. Opened in 1997, the centre is home to the fully digital TV studio where much of Fuji TV's television content is filmed.
Several times a year, Fuji TV holds large scale public events drawing thousands to the centre. They also film many of their shows outside the complex so visitors can enjoy the fun and often crazy audience participation.
The TV station also gives you a chance to see their some of their studio and production operations on the fifth floor that is open to the public. This is a great chance to see some of the fun and strangeness of Japanese television, in particular the some of bizarre game shows and so called infotainment programming. There are some fascinating displays including photos, exhibits, props and even some cute animal mascot suits. If you are lucky enough, you might even get to meet one of the stars of Japanese TV or sit in on a studio during filming of one of the many shows that are filmed each day at the centre.
The Fuji TV Building is easily reached from the Daiba Station (station U-07) on the Yurikamome Line, this fully automated train system can be caught near Shimbashi Station where it meets the Asakusa Line (station A-10) and the Ginza Line (station G-08). The Yurikamome Line also has a station near the Oedo Line (station E-19) at Shiodome. Another novel way of reaching the building is by using the oddly named ferry service called the Water-Bus that departs from Hinode also a Yurikamome Line Stop (station U-04). While on Odaiba look out for the free shuttle buses which loops the Odaiba waterfront precincts attractions.
For more information visit http://www.fujitv.co.jp/en/