Maritime Museum
The Maritime Museum or Fune-no-Kagakukan as it is known, is everything nautical, the building is even shaped like a giant ship. There are several levels of interactive displays, a large outdoor area, an observatory and a seaside pool that is open during the summer making it hugely popular on a hot day.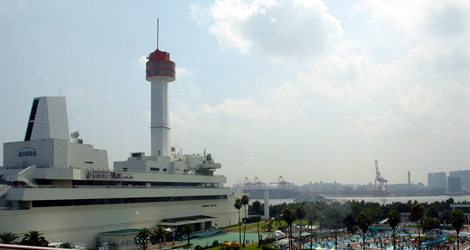 The museum has a wealth of fascinating items and is a comprehensive display of man's quest with the oceans. The lower levels are dedicated to engineering and design of ships, with displays on ship building, ship propulsion and ship design. There is also a hall dedicated to marine symbols and a meeting hall.
The upper decks have displays on sailing the seas and many models of Japanese boats, including submarines, ferries, supertankers, container ships, and wooden ships. There is an extremely cool radio controlled boat corner where children love to play with these little boats.
Outside the museum is home to a lot of larger historical artifacts which portray many of the important milestones in Japanese maritime history. Most of the information is in Japanese, but it is fairly easy to understand what is going on with many of the exhibits. One exhibit not to miss is a ship moored nearby is the Soya, constructed in 1938 as a cargo icebreaker; it served as Japan's first Antarctic observation ship.
The centre also features a gift-shop, cafe and restaurant which are an excellent place to end the hour long museum tour.
Train is the easiest way to get to the museum, take the Yurikamome and depart at Funenokagakukan (U08) (Museum of Maritime Science) Station it takes about from 16 minutes from Shimbashi Station. You can't miss the giant ship like museum.
Official Website
http://www.funenokagakukan.or.jp/