Odaiba is a great place to shop as there is something for everyone. The kids can spend some time in the amusement arcades. The guys can check out the cars at the Toyota Mega Web, while the girls can check out some of the high fashion boutiques. Afterwards you can grab a bite to eat at one of the many cafes and bars in the area.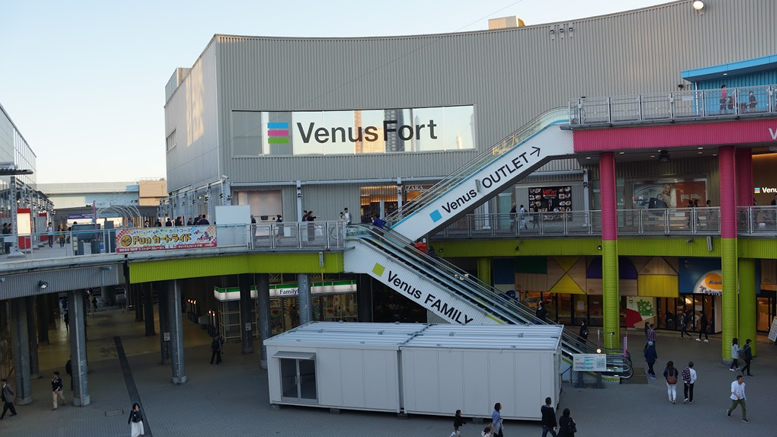 Decks Tokyo Beach
Decks Tokyo Beach is a six story shopping utopia with boutiques, cafes and a few surprises. The centre has one of the largest amusement arcades in Tokyo, the Sega Joypolis. There is also a brewery which serves German-style beer. Part of Decks is an amazing food theme park known as Daiba Little Hong Kong, this gastronomic food court has transformed a whole floor into a miniature Hong Kong. Here the streets of Hong Kong have been recreated complete with the sounds, atmosphere and smells of Hong Kong. You can even hear the planes landing at Hong Kong's old Kai Tak Airport. This place has to be seen to be believed, it is a great location for a meal if you fancy some Hong Kong inspired food.
Aquacity Odaiba
Aquacity is another monstrous shopping mall; there are floors and floors of boutiques and over 60 restaurants and cafes. Aquacity also houses a 13 screen cinema complex with over 3000 stadium seats. The centre even has a lady's day every Wednesday where there are several special offers. The upper floors offer spectacular views of the Tokyo Bay and Rainbow Bridge. Aquacity is situated next door to the Decks Tokyo Beach complex.
Venus Fort
Venus Fort is part of the sprawling Palette Town complex and is a very faithful reproduction of an 18th century European Town. The centre is made up of five plazas complete with cathedrals, fountains and even an artificial sky that continually transforms from day to night. There are over 100 shops and cafes in the complex, most of them targeting teenage to 20 something females.
Sun Walk
Sun Walk is located in Palette Town on the floor below Venus Fort and features a lot of shops catering to the pet lover. Here you can rent a dog to take for a walk, visit a room full of cats or even take your own pet along for a hair cut and bite to eat at a dog friendly cafe. The Palette Town complex is only a short walk from Decks Tokyo Beach and Aquacity and is located just behind the Fuji TV building. Palette Town is easy to spot as it features a huge Ferris wheel known as "Daikanransha".
Diver City Tokyo
Diver City Tokyo is the newest shopping and entertainment facility on Odaiba. The centre is home to several American and world fashion brands, this combined with the novelty of a new place to shop and have fun, means that Diver City can become extremely busy on weekends. There is a wide range of dining establishments set amongst a food court named Tokyo Gourmet Stadium. The 7th floor features Round 1 Stadium, an amusement facility filed with various sports activities like bowling, tennis and football. Another amusement facility is known as Gundam Front Tokyo. This centre is based around the popular giant animé robot Gundam, a full size replica of him is located out the front of the shopping centre. Diver city is located directly behind the Fuji TV building.