Odaiba is a suburb that is almost like a theme park. The area has been in development since the mid 1980s and is home to some great attractions and parks that are well worth checking out.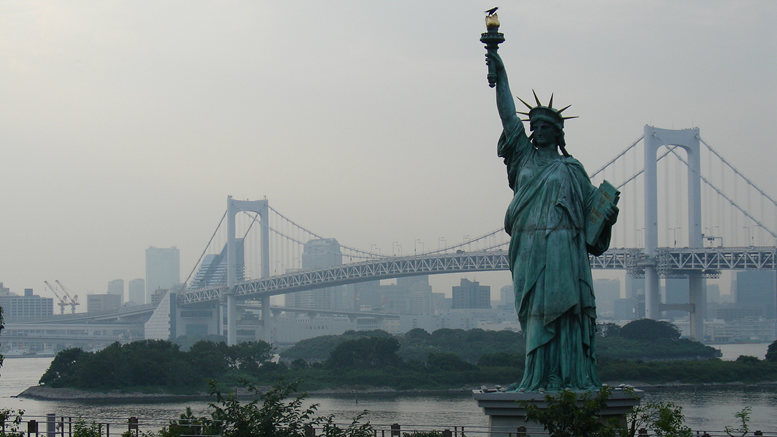 Panasonic Center
The Panasonic Center is a showcase of electronics company Matsushita's amazing array of the latest electronic gadgets from the newest cameras, DVDs, TV's, computers and home appliances to name a few. They even have a talking toilet which changes height to suit you and weighs you while using it. The centre also houses the Dinosaur Factory which is very popular with children.
Daikanransha Teleport Town
Daikanransha Teleport Town is home to what was once the world's largest Ferris wheel. Standing at 115 meters tall, Daikanransha was surpassed in height by the London Eye in 2000. This wheel is very popular with young lovers who enjoy the privacy of the slowly spinning wheel. The gondolas hold up to six people and offers spectacular views of Tokyo both day and night.
Odaiba Seaside Park (Odaiba Kaihin Koen)
There are quite a few parks in Odaiba, but the Kaihin Park is well worth a visit. Situated near the Rainbow Bridge, it features lush vegetation and a very popular man made sand beach. The Beach is one of only two beaches in Tokyo. Swimming is not allowed at the beach, thanks to its murky polluted water. A walk along the beach towards Odaiba's replica of the Statue of Liberty provides great romantic views of Tokyo and Odaiba.
Telecom Center
The Telecom Center is an imposing building comprised of two towers joined via a huge sky bridge. The centre has a fantastic observation deck which gives an amazing view. On the rare clear day, you can even see Mount Fuji and the whole greater Tokyo region, but even if it's hazy there is a worthwhile view of the Tokyo Bay and surrounding area.
Oedo Onsen Monogatari
The Oedo Onsen Monogatari is a hot spring theme park which opened in 2003. It reproduces the atmosphere of the Edo Period which occurred during 1603 and 1896 with faithfully reproduced buildings and shops. The baths are fed by actual hot spring water that is produced nearly 1400 meters underground. Visitors wear the traditional Japanese yukata which are cotton kimonos; there are 18 different patterns to choose.