The 918 metre long suspended Rainbow Bridge links the futuristic leisure town of Odaiba with the Tokyo Waterfront, crossing Tokyo Bay underneath. Named after the beautiful rainbow coloured lighting that graces the structure in the evenings, the bridge is one of the city's most popular and attractive landmarks. During the daytime the tower is a soft white colour designed to harmonize with the surrounding skyline while at night solar energy lights the rainbow coloured lighting system.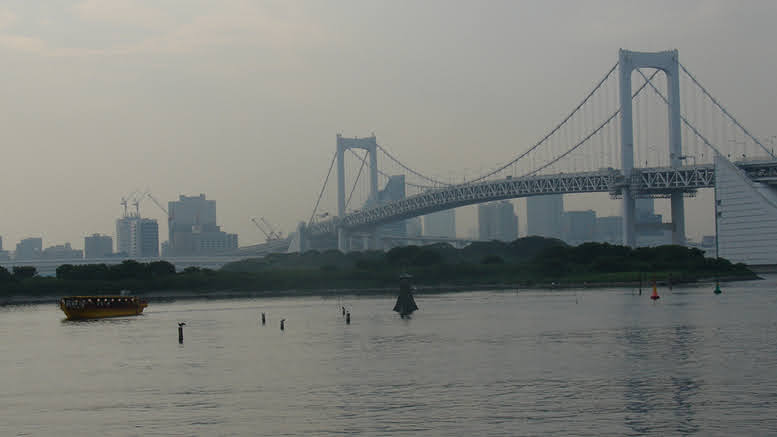 Opening in 1993 after nearly seven years of construction, the Rainbow Bridge has two decks stretching its length; one deck carries an express-way while the other carries a regular road, the fully automated driver-less Yurikamome Line railway and a walking path. The bridge is a popular walk offering many excellent vantage points, with stunning vistas of the interesting architecture of Odaiba and city skyline of Tokyo along the way. Taking about thirty minutes, there are several rest stops and plenty of vending machines filled with refreshments to enjoy along the journey.
The Yurikamome Line starts from near the Shiodome Exit of JR Shimbashi Station and is the best way to get to Odaiba. This will give you an exciting rail journey across the Rainbow Bridge. There is also an enjoyable boat ride called the water-bus. This ferry travels under the Rainbow Bridge where you can see the structure from a different perspective with the roadway some 52 metres below and the tops of the towers 126 metres above the water. The water-bus leaves Hinode Pier on the Tokyo side of the Bridge and returns from a jetty near the Fuji Television Building on Odaiba.
The bridge is a perfect photo opportunity especially as dusk falls, n the lights of the city illuminate into the hazy skies offering a stunning sight. A terrific photo can be taken from near Pallet Town where you will be able to photograph the bridge with Tokyo's Statue of Liberty in the foreground. This statue was actually a copy of a Statue of Liberty replica that France lent to Japan in 1998. The statue was enjoyed so much in the short visit a large public appeal was launched to return a replica to the site so people could enjoy it forever. It has become a well known symbol of Odaiba.