Located in the Pallet Town shopping centre in the middle of Tokyo's waterfront entertainment suburb of Odaiba, is Toyota's self proclaimed car theme park, Mega Web. Toyota Mega Web comprises of six exhibits such as the History Garage, Universal Design Showcase, Toyota City Showcase, Ride One and the Kids Hybrid Ride One.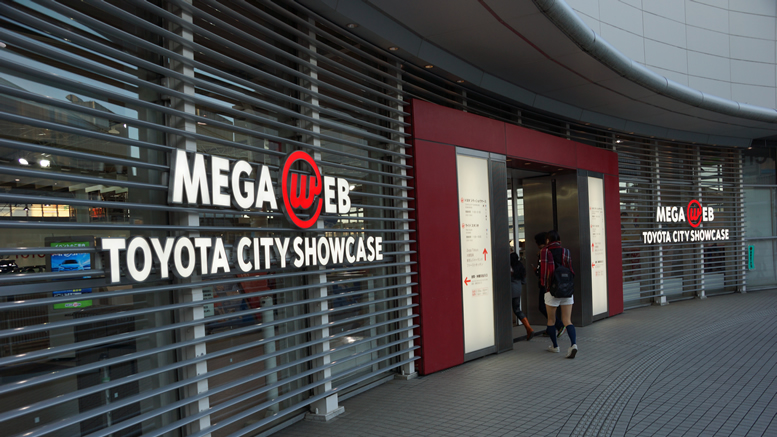 The largest part of Mega Web is the Toyota City Showcase, here you can see all the latest and future Toyota products and also visit the motion simulator attraction know as "Mega Theater". There are also several rides and attractions at Mega Web, like the popular "Ride One".
Ride One lets any licensed driver test drive one of the latest Toyota cars on their 1.3km, 2-lap test course that links the 3 pavilions. You can select a car from the Toyota line-up and then take your time and get a feel for the car of your choice on the test course. Reservations are recommended, and the cost is around 300 yen per car. The kids haven't been forgotten either; they can drive the Kids Hybrid Ride One. The kids ride is a motor assisted hybrid cart that can be driven around a 150m circuit.
Other parts of Mega Web include the History Garage and the Universal Design Showcase. The History Garage showcases some of the most well loved cars in history. Beautifully presented, the History Garage features cars from all over the world from the 1950s to the 1970s.
The Universal Design Showcase is a great hands on learning experience, here you get to see some of the ways modern cars are designed to better suit our lives.
Mega Web is part of the Palette town complex that is situated in the middle of Odaiba. The center is easily accessible via Aomi Station (U10) on the Yurikamome Line rail that goes from Shimbashi to Odaiba along the Rainbow Bridge.
Official Website:
http://www.megaweb.gr.jp/about/english.html