Opened in 1958, the Tokyo Tower stands 333 meters above the ground and is 13 meters higher than the Eiffel Tower in Paris, in which it was inspired. Although it is higher, with modern advances in steel fabrication, the Tokyo Tower weighs a little over 4000 tons compared to the French tower at over 7000.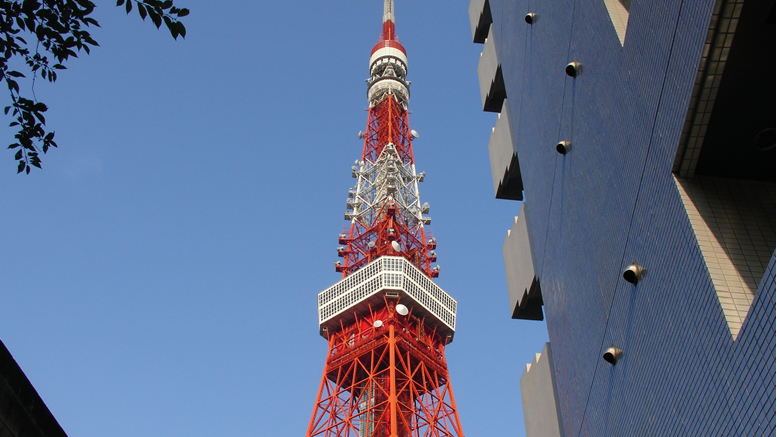 The structure is used as a broadcasting tower, with radio and television stations broadcasting signals from the bright red structure.
There are two public observation decks on the Tokyo Tower; the lower one is 150 meters off the ground where 360 degree views of the Kanto Region and surrounding Tokyo are visible, while the 250 metre high observation deck will give you views of Mount Fuji and Mt Tsukuba on a fine day.
Unfortunately with high humidity and smog, visibility is difficult at many times during the year. A night time visit of Tokyo Tower is also recommended, the spectacular sight of Tokyo's lights is a real treat.
One scary moment is standing on the glass floor panels looking down at the street far below; it is interesting to people watch and see the fear in people not game to stand on the glass.
The base of the tower is home to Foot Town, this entertainment Mecca houses several interesting family attractions including the Tokyo Aquarium, which is home to 50,000 fish and assorted sea creatures. Foot Town is also home to an exhibition space and a large shopping complex with dining.
Other attractions include the Tokyo Tower Wax Museum and Space Wax where you will find a large display of models and the famous in wax. The Tokyo Tower Trick Art Gallery is a display of some very clever Holographic 3D trick photography. The Guinness World Records Museum Tokyo is also housed in Foot Town and holds a amazing array of interesting facts and displays.
The Tokyo Tower is located in Shiba, which just south east of Roppongi, and only a few minutes away on foot from Akabanebashi Station (E21) on the Toei Oedo Line, or a 5 minute walk from Kamiyacho Station (H05) on the Hibiya Subway Line. To get there from the JR's Yamanote Line, you would need to swap to the Toei Oedo Line at Daimon Station (E20), this station is opposite the Yamanote's Hamamatsucho Station. Alternatively swap at Ebisu (H02) to the Hibiya Line bound for Kamiyacho.
Official Website
http://www.tokyotower.co.jp/english/
Nearby Hotel
Tokyo Prince Hotel