NHK or the Nippon Housou Kyouka is Japan's national broadcaster. NHK is also known as the Japan Broadcasting Corporation and is the public TV and radio service of Japan just as the ABC is to Australia and the BBC is to Great Britain.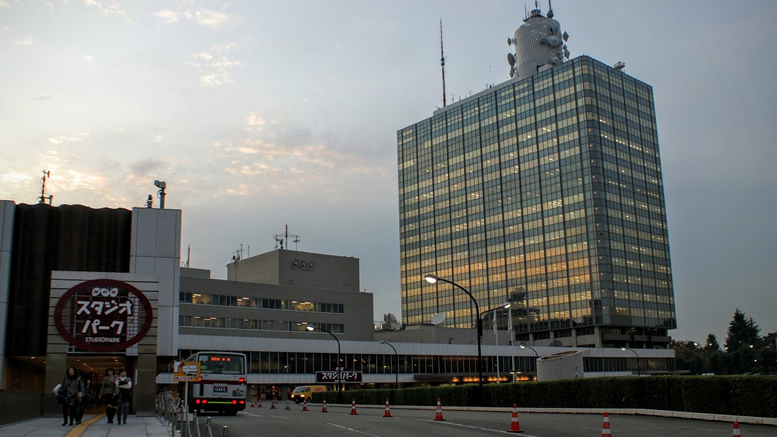 Attracting nearly 1 million visitors a year the studio park offers a tour of the recording studios where you can see where some of Japan's favourite television is recorded. You might even be lucky enough to see some recording of a drama or news program.
The public is also treated to a mini studio theme park with quite a few attractions including chances for visitors to try their hand at announcing or even acting.
Studio Q offers visitors to see the cutting edge broadcasting technologies used to deliver quality television, and there is even a 3D high definition theatre which is well worth a visit.
For those wanting to be in the studio audience of one of the sometimes wacky television shows you can make an advance booking with the centre.
Like all Japanese media there are some pretty cute and somewhat weird animated characters in the NHK line up. One popular Character is Domo-kun, he is a little brown creature with a mean looking mouth that hatched from an egg and lives underground with a wise old rabbit… well you get the drift. He is one of the favourites at the great gift shop at NHK Studio Park which stocks lots of TV-themed T-shirts and other Japanese TV novelties.
The Tokyo NHK Studio Park is in Shibuya and is walking distance South West of the JR Harajuka Station or North West of JR Shibuya Station, both of which are on the Yamanote line. NHK Studio park is located below Yoyogi Park and just behind the Yoyogi Olympic Stadium. The centre has a modest admission charge and is closed some Mondays and public holidays.