The Tokyo Electronic Power Company (TEPCO) has a free museum called the TEPCO Electric Energy Museum (also known as Denryokukan) which was built to celebrate the 50th anniversary of the company. This free attraction has a wealth of information on how important the electrical resource is to Japan. The museum is in Japanese, but there are English language pamphlets available to explain what is going on in the displays.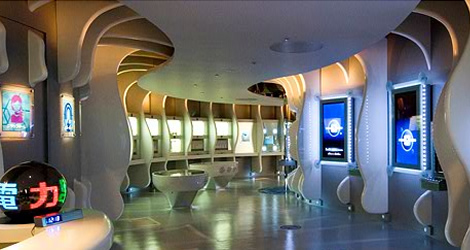 The centre piece of the five floor museum is a model of the inside of a thermal-nuclear reactor. The surrounding displays explain how the system works, and how nuclear power supply's much of Japan's needs in a clean and safe manner. A 19 minute english video that further explains nuclear power.
One floor is dedicated to energy conservation and modern living. A display called "The Electric Kitchen", demonstrates some of the new advances in household gadgetry that which can help conserve power, benefiting both the consumers pocket, and our fragile earth's green house. There are quite a few buttons and interactive displays to push and learn little more about the environment here. The Electric Kitchen is actually used for cooking demonstrations, so you might be lucky enough to catch a course and sample one of the tasty dishes prepared by the chefs.
The museum is accessible by heading north from the Hachiko Exit of Shibuya Station; it's on the opposite side of the road, and a bit further up, from the huge Tower Records store. The Museum is easily recognisable via the large gold dome on the roof.
UPDATE: In the wake of 2011 Fukushima Earthquake, TEPCO have closed their museums, see the link below for further information.