Originally the site of the first powered aircraft flight in Japan, what is now Yoyogi Park was also a Japanese military residence and later used by the American forces after World War II.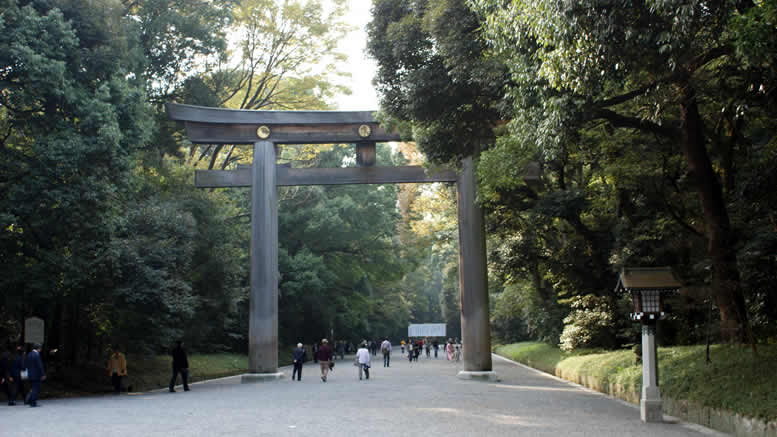 In the early 1960's much of the area was developed for the Olympic Village of Tokyo's 1964 Olympic Games, before being redeveloped as a huge park in 1967.
Today Yoyogi is a beautiful place to get away from the hustle and bustle of this vibrant city. Set amongst the woodland are plenty of walking, cycling and jogging tracks. In April, the park comes into colour with the magnificent cherry blossoms where thousands flock to see the prettiest sight in Tokyo. The park covers over half a million square metres and has over 15,000 tall trees, 92,000 shrubs and 200,000 square metres of grass.
There is plenty of seating, artwork and fountains to make a visit to Yoyogi Park worthwhile. The park is also a great place for that perfect photo opportunity with breathtaking views of the nearby Shinjuku skyscrapers.
The park is a very popular gathering place, especially on Sundays where thousands flock to listen to music or practice sport including several types of martial arts. There are several places to grab a drink or a bite to eat and several bicycle hiring kiosks.
Over recent years, the park has also become a home for many of the homeless in the area. The people here generally keep to themselves and keep the area fairly orderly.
Yoyogi Park is also a popular place for unsigned pop bands or potential models to be seen. Sunday afternoon brings out the ones who want to see and be seen. There have been several successful signings from posers found in the park.
Yoyogi Park is about a 3 minute walk from Harajuku on the JR Yamanote Line or Yoyogi Koen (C02) on the Tokyo Metro Chiyoda line, or 6 minutes walk from Yoyogi Hachiman on the Odakyu Odawara line.