With Japan being frequented by earth quakes, there are not many places that large high rise sky scrapers can be built, but a district in Shinjuku has been declared suitable.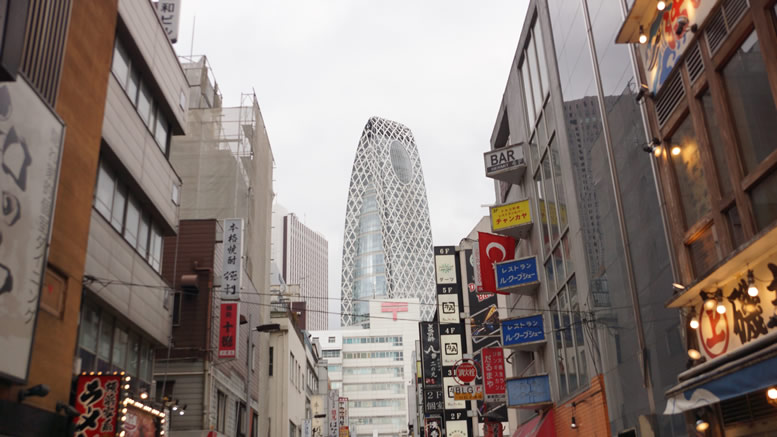 There is a somewhat ultra modern mix of concrete, glass steel and landscaping with some very impressive architecture.
The massive 243 meter tall Tokyo Metropolitan Government Offices is the most notable building, but there is a wealth of other impressive buildings owned by banks, finance, insurance and other large Japanese and multi-national companies.
Another notable landmark just to the west of Shinjuku Central Park is the Park Hyatt Tokyo; known as one of the world's most expensive and luxurious hotels, it featured in the hit movie "Lost in Translation" starring Bill Murray. The view from the "New York Bar" is spectacular, particularly at night. The Park Hyatt features some amazing Jazz performers and the largest selection of American wines and spirits in Japan.
The skyscraper district is also home to many of Tokyo's other luxury hotels including the Century Hyatt, Hilton, Washington, Shinjuku Prince, Tokyo Inn and the beautiful Keio Plaza which has a 77 and 34 storey towers.
A visit to the Shinjuku Skyscraper District at night during the Christmas season is quite an experience with many of the buildings and surrounding area being lit up with millions of Christmas lights. It attracts thousands to its nightly displays.
To visit the skyscraper district take the west exit from the Shinjuku Station and walk west for about 5 minutes.
Another option is to head north along the rail line just past the station on the skyscraper district side where you will come across an area named Shomben Yokocho, but also nicknamed Piss Alley.
Piss Alley is a group of tiny restaurants and bars generally selling meat on sticks. Even if you're not hungry it is an amazing experience walking down the tiny alley and soaking up the atmosphere and smoke of a part of Tokyo that is all too often being replaced with modern buildings. After Shomben Yokocho you can head west along the elevated pedestrian walkways towards the skyscraper district.
The Shinjuku Gyoen National Garden is also a beautiful place to visit especially during spring when the cherry blossoms are in full bloom. Tokyo's best known gay village Shinjuku ni-chome has a special cherry blossom viewing parties at many of the gay bars during the blooming season, which attract thousands to the area.
If you are planning to visit Shinjuku on a Sunday it is well worth a visit to the Shinjuko Chuo Central Park where there is an interesting flea market, and if you plan to visit Shinjuku during an evening make sure you check out the neon lit Kabukicho entertainment area.
Nearby Hotels