The Kabukicho (also spelt Kabuki-cho) area in Shinjuku is known as a red-light district; with plenty of hostess bars, pachinko parlours and love hotels lining the streets, Kabukicho's bars and restaurants out number its residents.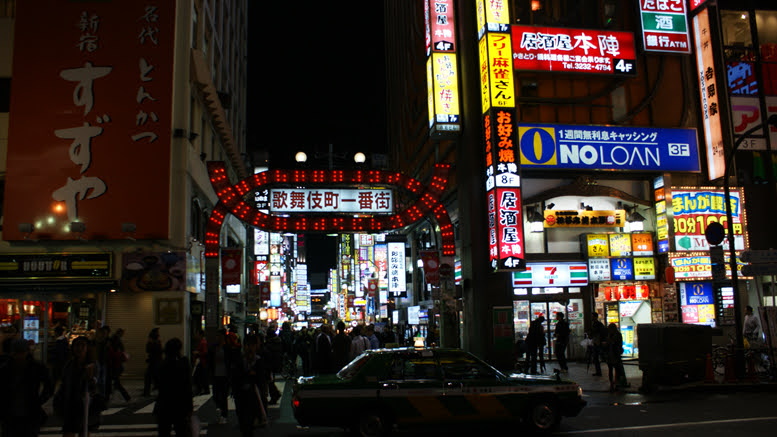 Kabukicho sprang up after the war; it got its name from a kabuki theatre that was planned to be built there. This attracted a few bars to be built in the area that in turn attracted stationed army officers, closely followed by illegal sex workers. The theatre was never built, but the entertainment district, its clientele and the name Kabukicho stayed.
Kabukicho is well known as the place where the Japanese Mafia, known as the Yakuza, like to hang out and is often considered one of the more dangerous suburbs of Tokyo. Despite the Yakuza presence, Kabukicho is fairly safe for tourists; there are plenty of reputable bars and restaurants in the area as well as a few seedy bars. It would be a good idea to keep your wits about you as you don't want to go to a bar and find out you just had 6 rounds of $50 beers.
Due to the fact that there are plenty of strip clubs in the area, there are also plenty of touts trying to drum up business. The touts are generally American's that target any non Japanese looking person. The touts can follow you halfway down the street with offers of "hey bro, I will get you your first drink free" or similar to get you into their club. These guys are best ignored (as it may cost you big in the end) and they will move onto someone else. In recent times, the police have maintained a higher presence in the area in a bid to clean up Kabukicho's image.
The streets of Kabukicho are an amazing sight especially at night when all the neon lights come on, films like Lost in Translation, The Fast and The Furious: Tokyo Drift all filmed around here and neighbouring Shibuya. It is also claimed that Kabukicho was the inspiration for the set design of the futuristic movie Blade Runner. Take a visit to Kabukicho at night and you will see what they mean.
Kabukicho is located north east of the huge Shinjuku Station complex. Take the east exit out of the station and head north towards Seibu Shinjuku Station, this is where all the Kabukicho fun starts.