Shinjuku Gyoen National Garden
The Shinjuku Gyoen National Garden was originally a residence of the Naito family in the Edo period and was almost destroyed during World War 2. By 1949, the gardens became open to the public as "National Park Shinjuku Imperial Gardens".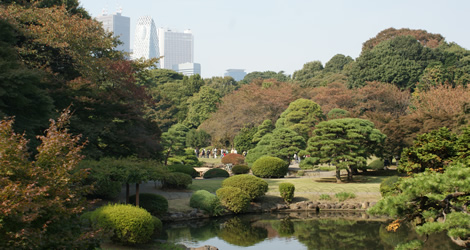 The gardens are well known for the approx 1500 cherry blossoms that grow in the gardens, in fact, there are over 20,000 trees in total across 58.3 hectares. The gardens are split into the 3 styles of French Formal, English Landscape and Japanese traditional. The gardens are also home to a few tea houses and restaurants, an art gallery, a greenhouse and an old imperial rest house known as Shinjuku Gyoen Goryo-tei. The imperial rest house was built in 1927; it was built to commemorate the wedding of Emperor Showa, and is one of the few buildings in the park that was not destroyed during the war.
The gardens are opened 9:00am to 4:30pm every day except Mondays; admission to the garden is 200 yen. Access to the gardens is a 10 min walk from JR Shinjuku Station's Yamanote, Chuo or Shonan-Shinjuku Lines or 5 min from the Shinjuku Gyoemmae Station (M10) on the Tokyo metro subway Marunouchi line.
More info http://www.env.go.jp/garden/shinjukugyoen/english/index.html