The Shinjuku Gyoen National Garden was originally a residence of the Naito family; Lord Naito was the feudal lord of the Edo Period. The garden was built in over four years and completed in 1906, but it was extensively damaged during bombing raids during World War II. The garden was rebuilt and opened to the public in 1949 when it became known as the "National Park Shinjuku Imperial Gardens". The 144 acre gardens remain one of the most important gardens dating from the Meiji era.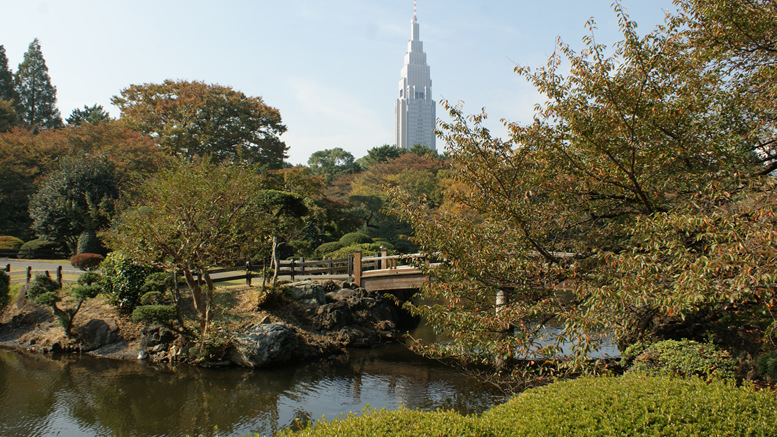 The gardens have three themed and different styles; French Formal, English Landscape and Japanese Traditional, but they are best known for the approximately 1,500 cherry blossoms growing in the garden. The garden is home to over twenty thousand trees featuring dozens of species planted throughout the spectacular landscape. The cherry blossom season is the most popular time to visit the gardens but the numbers of visitors also swell in early November when the gardens are awash with the colours the national flower of Japan, the chrysanthemum. The chrysanthemum displays are an amazing sight with some incredible flowers on show including topiaries, exotic grafted varieties and some of the most beautiful cascades of bloom.
You will find several tea houses and restaurants, an art gallery, a greenhouse and an old imperial rest house known as the Shinjuku Gyoen Goryo-tei throughout the gardens. The imperial rest house was built in 1927 to commemorate the wedding of Emperor Showa, and is one of the few buildings in the park that was not destroyed during the destruction of World War II.
The gardens are opened 9:00am to 4:30pm every day except Mondays; admission to the garden is 200 yen. Access to the gardens is a 10 min walk from JR Shinjuku Station's Yamanote, Chuo or Shonan-Shinjuku Lines or 5 min from the Shinjuku Gyoemmae Station (M10) on the Tokyo metro subway Marunouchi line.
Official Website:
http://www.env.go.jp/garden/shinjukugyoen/english/index.html