Tokyo has two major airports, Haneda, which handles mainly domestic traffic and Narita, which is the major international airport. Rather confusingly, Haneda is often called Tokyo International Airport as this was the international airport prior to Narita opening. Narita handles about 20 million passengers a year and 2 million tons of cargo; it is one of the world's leading airport hubs.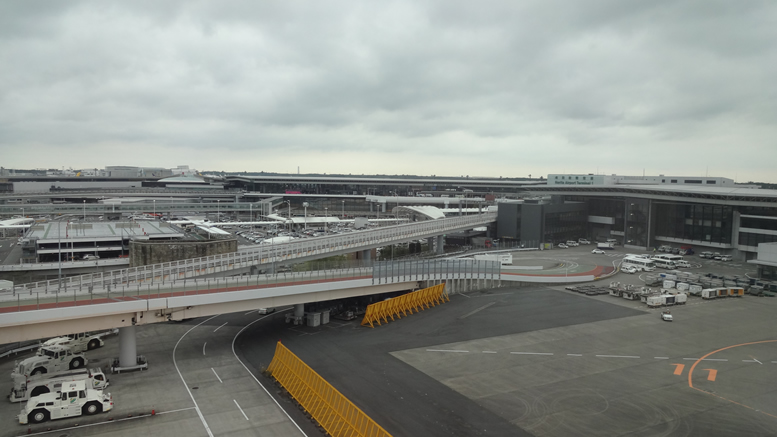 Located about 60 kilometres to the north east of Tokyo's city centre in the Chiba Prefecture, Narita airport opened in 1978. Narita has three terminals; Terminal 1 usually handles US, European airlines, Singapore, Cathay and Korean Air, while Terminal 2 carries most Asian traffic with Delta and a few of the European airlines also using it. Located a 5 min walk from terminal 2, Terminal 3 mainly handles budget carriers and while it has a large food court and some shops it does not have all the facilities of the the other terminals like fancy lounges etc. A shuttle bus also connects terminal 3 to terminal 2.
The surrounding land around the area has become a hub for high tech companies as well as many shipping and transport logistic organisations. Narita is well serviced and easily accessed by public transport; with the JR Narita Express (also called NEX) being the best option to get into Tokyo. The journey takes about an hour and departs every 30 minutes. Most Japanese cities have competing rail networks, and Tokyo is no exception. You can also use the services of Keisei Electric Railways, who also operate their own versions of the Narita Express known as the Skyliner and Cityliner. These services terminate at Keisei's Ueno Station; the Cityliner will set you back 1920 Yen while the Skyliner costs 2400 Yen. Keisei's Cityliner reaches Ueno in just under 1hr while the Skyliner takes only 36min.
The one downside with using Keisei is that you may need to swap trains to get to your hotel; one option would be to get off at Nippori Station and then transfer to JR's Yamanote Line or even the Keihin Tokuku line at Ueno Station depending on your final destination. From Ueno, it's about 10 minutes to the Tokyo Station. Also note competing rail networks in Japan stations may not be in an adjoining complex, Keisei's Ueno station is across the road from the JR and Tokyo Metro's Ueno Station. Considerably cheaper, but longer journeys, can be had on a standard commuter service to Narita airport and are operated by both JR and Keisei.
The trains in Japan are one of the most efficient and most on time rail services in the world, but it is always best to allow plenty of time to reach the airport as unforeseen delays can occur.
There is a coach service to and from Narita known as the limousine bus, The trip takes a bit over 1 hour and can be more economical than the Narita Express. The bus service regularly operates to and from many major hotels, making the service very convenient if you are staying at or near one of the hotels that the bus stops at.
While there are plenty of taxi's in Tokyo, the 60 kilometre journey to Narita can be extremely expensive with fares in the vicinity of 20,000 yen not uncommon. We highly recommend to look at train or bus options before hopping in a taxi at Narita.
Also on Happy Jappy
Tokyo Haneda Airport
Keisei Cityliner / Skyliner
Official website
http://www.narita-airport.jp/en/