Ueno Park or Ueno Koen as it is known, is one of Tokyo's more spacious public parks and is home to some of the city's best galleries and cultural centres. The park is home to the popular Tokyo Zoo and some of the city's most beautiful cherry blossoms in the spring.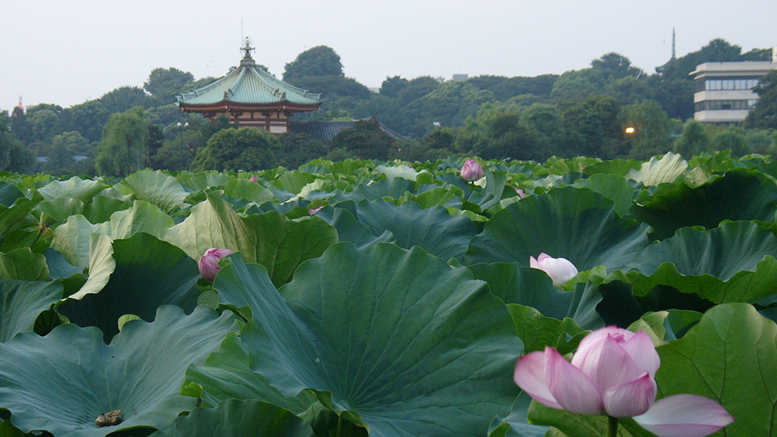 Dating back to 1873 the park was originally part of the Kane i-ji temple's grounds. Much of the temple was destroyed during the Boshin War's Battle of Ueno in 1868 making way for the park. Today little of the temple's buildings have survived other than the magnificent five story pagoda that dates back to 1639, as well as part of the temple's main gate.
One of the more striking features of the park is the Shinobazu Pond, that is made up of three main bodies of water. Having a circumference of around 2 kilometres the park is lush with plant life including beautiful lotuses. Visitors will often see a wide variety of bird life including ducks and the alligator snapping turtles that have become a pest in many waterways throughout Japan.
The Tokyo National Museum, National Museum of Western Art and National Museum of Nature and Science are only a few of the important cultural centres located in the park. The park is also home to some spectacular art including beautiful sculptures and monuments. One highlight is the face of the Ueno Daibutsu Buddha. This bronze face is all what remains of the Buddha that dates back to 1631, the remainder of the statue was damaged in earthquakes and fire and was finally melted down for Japan's Pacific war effort.
The zoo has gained world attention in recent years with their staged emergency drills where people dressed as large animals are rounded up by security as if they were animals escaping from their enclosure. The zoo is Japan's oldest dating back to 1882 and spans over 14 hectares. It features over 450 species of animals and including gorillas, rhinos, tigers, elephants and their star attraction Ri Ri and Shin Shin, the two magnificent pandas.
Ueno Park is very popular every day but it swells with numbers on the weekend. It is estimated that over 10 million visitors enjoy the park each year. Many of these visitors come for the spring Cherry Blossom Season that takes place in March and April, where over 8000 cherry trees are in bloom. Here people enjoy picnics. Browse at the market places or enjoy the several cafes and outdoor eateries.
Ueno Park borders the Ueno Station. The Higashien, Nishien and Keisei Ueno Stations are also only a short walk to the park.