One would think with the amount of cutting edge technology and the millions of vending machines in Japan plastic bank cards would be all the go. But no, Japan runs mainly on paper and coin cash.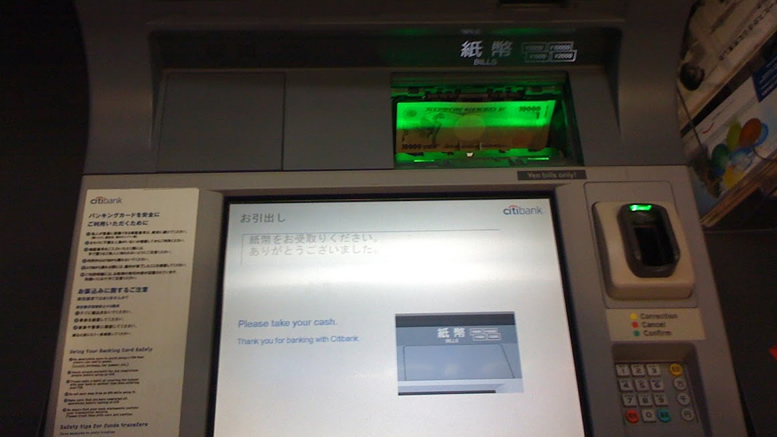 Plastic cards, whether they be credit or debit, are treated a bit like cheques and considered second rate. Many of the larger stores are able to accept the popular cards like Visa and Mastercard, but the majority of smaller stores only accept cash. Things are slowly changing, on a recent trip we saw several Yakitori stands accept cards via the Square payment system, there were still a lot of cash only business so it's still best to keep a bit of cash on hand just in case. Also, many of the vending machines only use cash, so it's not hard to see why you need deep pockets of coins and smaller notes.
It is not to say there are no ATMs and card use in Japan, but many of the ATM's are found inside banks. With relatively low crime rates, and the number of transactions each person makes with some kind of vending machine whether it be tickets, food or the like its not hard to see why the country runs on cash and not card.
Another thing to be aware of is the majority of Japanese ATMs do not talk to foreign banks. Some of the larger banks do have facilities for foreign visitors in particular most Citibank, Mizuho Bank and Shinsei Bank branches, but the post office may be your the best option due to the abundance of branches.
Just about all Japanese Post Offices have foreign ATM facilities and they couldn't be easier. The machines operate in several languages, and many have entertaining LCD screens where little characters bow and carry on as you use the machine and wait for the money to spit out. Most westerners will find using the ATMs a breeze and a lot less confusing than trying to convert travellers cheques, which can take up to an hour to cash due to the huge amount of Japanese red tape and the difficulty with translations between English and Japanese.
The Post Office is easily spotted with its logo having a Red T with a red line above it, they are only open normal business hours Monday to Saturday in most cases, so make sure you have enough funds on you to get yourself through.
7 Eleven's ATMs in their convenience stores have been able to accept many international cards like Amex, Visa, Mastercard and Cirrus cards for a number of years. Branded 7Bank their ATMs have also stared to pop up outside their stores often near train stations and larger hotels. Family Mart have also recently followed 7 Elevens lead and have launched international ATMs in their convenience stores too.
7 Eleven bank info page http://www.sevenbank.co.jp/intlcard/index2.html
Family Mart info page http://www.family.co.jp/for_tourist/en.html