The local convenience store or Konbini as they are called, is one of the most useful stores in Japan for that quick purchase or service, and there is not much these stores don't sell.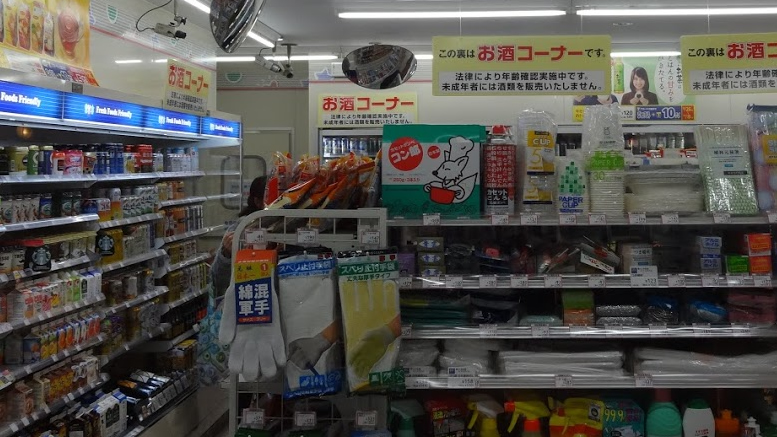 There are estimated to be over 40,000 of these stores throughout Japan, most belong to major chains such as 7 Eleven, FamilyMart and Lawson. Most of these stores are open 24 hours and 7 days a week, making them quite handy for just about anything you may need in a hurry.
The stores carry a vast variety of products, and you will find them on just about every corner. Being so plentiful there is strong competition to help keep prices fairly reasonable, and like all Japanese stores, all items are well labelled with prices.
These stores are renowned for that perfect snack or meals, with everything from sandwiches to sushi. They also sell a large assortment of hot and cold drinks and most carry liquor including beer and wine, plus a large range of toiletries, cosmetics, newspapers and cigarettes.
One cost saving trick is to avoid the hotel breakfast or mini bar by purchasing your needs the night before at a convenience store. Simply leave your goodies in the refrigerator until morning and over your trip you will save considerable money by not paying expensive hotel prices.
Many of the stores offer other services like photocopying, faxing, ticket reservations for concerts, sporting events and attractions. You can buy batteries, blank CD's and tapes, camera memory cards and usually there is a facility to print your digital photos. Most have a service where you can print your own, or you can also leave them there and pick up your prints later. The convenience store as the name suggests has just about anything a traveller would need.
Some stores also have a public toilet which makes the store even more convenient. Many 7-11 stores also have an ATM that accept foreign credit cards, this is quite handy considering most banks in Japan won't accept foreign cards.