Not to be confused with the Shin Yokohama Raumen Museum, the Cup Noodle museum is another of the food related attractions in Yokohama.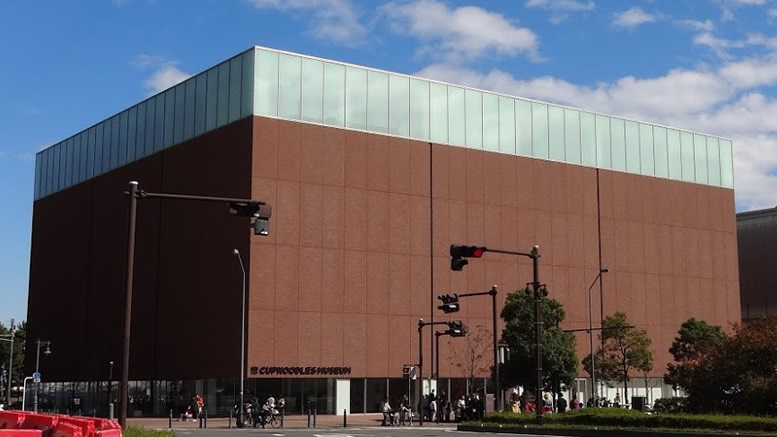 Located in the Minato Mirai 21 district across the road from Cosmo World and Yokohama World Porters shopping centre, the Cup Noodle Museum celebrates the humble cup noodle and its founder Momofuku Ando.
Set in a monstrous building and spanning over five floors, the museum begins with journey through the history of cup noodle with hundreds of noodle cups on display dating back to 1958 right up to the current. After viewing the changes in design, the evolution of flavours and the interesting labels visitors are then directed to a theatre where a fun animated film explains the story of cup noodles and the life and times of Momofuku Ando. The film is in Japanese but the friendly staff have English headsets on hand for English speaking visitors.
Outside the theatre, guests will be able to visit a recreation of Momofuku's simple shed kitchen where he perfected the cooking methods to produce the perfect cup noodle.
The remainder of this floor traces the life and times of Momofuku and even features a golden statue where you can get a selfie with the king of cup noodles.
Upstairs there are two interactive kitchens known as My Cup Noodles Factory and the Chicken Ramen Factory. In the My Cup Noodles Factory visitors can make their very own cup noodles, adding all the ingredients, frying the noodles and putting them in the cup before shrink wrapping them. In the Chicken Ramen Factory visitors get to make noodles by hand from flour and water before drying them in the instant ramen method.
The next floor holds a huge kids play park with lots of interactive fun a great place to use up some energy before visiting the Noodles Bazaar. Here visitors can try cup noodles from around the world, including many Asian flavours and a very tasty Italian inspired noodle treat in a street hawker like atmosphere.
Like all good museums the Cup Noodle Museum features a great gift shop, here you can buy a huge selection of goods including toys, clothing and household goods, not forgetting plenty of varieties of cup noodles.
The Cup Noodle Museum is located in the Minato Mirai 21 district and is an 8 minute walk from either the Minatomirai line Minatomirai Station or Bashamichi Station, alternatively you can reach the museum via a 12 minute walk from the JR Sakuragicho Station. Head towards the large Yokohama World Porters shopping centre and the Museum is located behind it. The Museum is open from 10:00 to 18:00 and is closed Tuesdays. Admission is 500yen with additional fees for some of the interactive attractions. See their website below for current information.