While Yokohama is a large city itself, its position on Tokyo Bay gives it easy and quick access to its more famous neighbour, Tokyo. So close to Tokyo in fact that many people would make a daily commute between the two cities each day for work.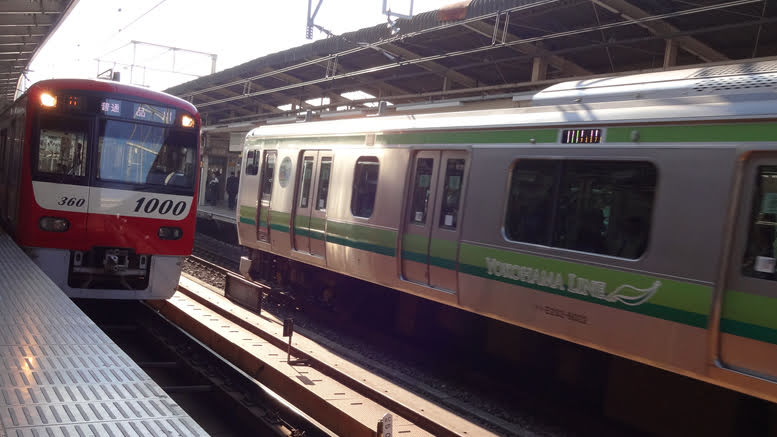 Yokohama is served by the Shinkansen bullet train but the train does not go to Yokohama station itself but to the outer station of Shin-Yokohama. The Shinkansen can do this trip in 15 minutes from Tokyo Station but once you need to change to a local train to get to central Yokohama you would probably be better off getting a local train from Tokyo direct that can do the trip from anywhere between 20 to 40 minutes depending on the line and station you are leaving from.
From Shibuya in Tokyo you could take the JR Shonan Shinjuku Line or Tokyu Toyoko Line that take around 25 minutes to reach central Yokohama, the Tokyu Toyoko Line continues on the Yokohama's Subway Minato Mirai Line which would be handy for direct access to Yamashita Park, Chinatown or the Minato Mirai 21 Districts. As the name Suggests the JR Shonan Shinjuku Line begins at Tokyo's suburb of Shinjuku.
From Tokyo or Shinagawa there are plenty of choices with JR Tokaido Line providing the fastest service at 25 minutes to the JR Yokosuka Line and JR Keihin-Tohoku Line doing the run between 25 mins and 40 mins. Excluding the Shinkansen fares range from 260 to 560 Yen from Tokyo depending on the line and starting location.
If you are heading to Yokohama directly from Narita Airport, the Narita Express (also known as the NEX) does have connections directly to Yokohama, at the time of writing the fare to Yokohama on the NEX was 4180 Yen, a Suica and NEX Combo ticket would be a good buy here at 3500 Yen with a 2000 yen credit on the Suica card.
Tokyo's Haneda Airport is fairly close to Yokohama and Keikyu Railways have a line from the airport to Yokohama, buses also run from this airport to Yokohama. The majority of traffic at Haneda is domestic with some international flights to nearby Asian countries.