Yokohama's Landmark Tower certainly lives up to its name. It is one of the more striking pieces of architecture in Japan and also its tallest skyscraper measuring in at 296 metres. The Eifel Tower inspired Tokyo Tower measures in a little higher at 333 metres but is only a steel tower and the viewing platform is lower than the Landmark's.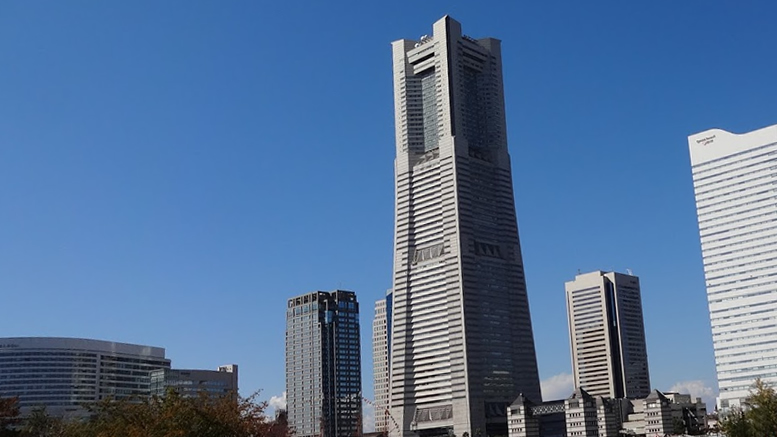 Located in the new waterfront precinct of Minato Mirai 21 the building dominates the skyline with its impressive and powerful stance.
Opening in 1993 the building houses a mixture of hotel, office space and huge retail facilities and its 70 floors have a combined floor space of nearly 400,000 square metres.
The tower has one of the world's fastest elevators to get visitors to the observatory and sky garden on the 69th floor offering 360 degree views of the city and surrounds and on a very clear day even Mount Fuji can be seen through the western side windows. The view is even more amazing at night when the huge city lights up.
The building was designed by Hugh Stubbins and Associates and has some amazing cutting edge technologies built into it for earth quake protection including great flexible built into the structure of the tower to absorb the force of earthquake, and huge dampeners in the top corners to absorb sway.
The huge shopping mall links massive Queens Towers complex which has dozens of restaurants including the Hard Rock Cafe and even more shops and boutiques and some with very interesting names like a teens fashion store called Octopus Army and a ladies boutique called Labrador Retriever. Ground level between the two towers is one of the most stunning sculptures in Japan resembling a twisted chrome rollercoaster.
Landmark tower is a 5 min walk on the moving walkway from Sakuragi-cho Station on the JR Negishi Line or 3 min Walk from Minato Mirai Station on the Minato Mirai Line.