In Japan there seems to be a museum devoted to just about anything, so it stands to reason a museum devoted to the popular noodle dish Ramen would be a popular attraction.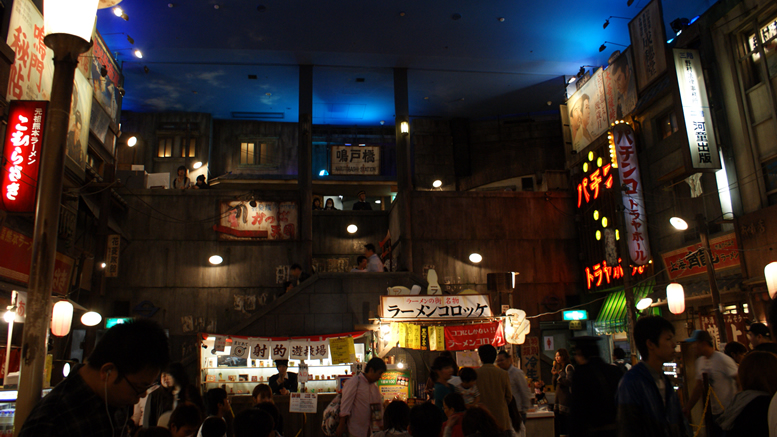 Located around 5 minutes from Shin Yokohama station the Shin Yokohama Raumen Museum calls itself a food amusement park and is a combination of a gift shop, museum and themed food court. While its origins are in China, ramen became popular during 20th century Japan. It was the late 1800's when many Chinese immigrants arrived in Japan establishing their own small communities and bring over their traditional foods. The Japanese embraced the Chinese noodle and often combined it with some more distinctive Japanese flavors and soon ramen stalls were popping up all over the country. Ramen increased in popularity especially after World War II when ex serviceman of the Japanese forces experienced more varieties of noodles in China. In 1958 instant noodles were invented and soon eating ramen at home was as simple as boiling water. In fact instant noodles were named the most important Japanese invention of the 20th century.
The Shin Yokohama Raumen Museum traces much of the history of ramen across its small ground floor museum with various displays of ramen related items and a replica of a ramen shop where you can get behind the counter just like a ramen chef. Much of the museums displays are documented in Japanese only, but it's still very interesting for the non Japanese speaking person. The museum surrounds a gift shop that has all sorts of ramen related items for purchase.
The highlight of the museum is the recreation of a 1958 Tokyo suburb in the basement level of the complex, here streets of period storefronts are arranged complete with tiny lanes, old world advertising and an artificial sky. Behind the Showa era facades are housed numerous ramen shops representing all the different styles of ramen from across Japan with many of Japan's most famous ramen restaurants represented.
The Shin Yokohama Raumen Museum is a 5 minute walk north west of Shin Yokohama Station, admission is 300yen for Adults and a bowl of ramen can be had from under 1000yen. Half sized ramen bowls are also sold to give you the opportunity to try more than one flavor of ramen. The museum is open from 11:00 am to 11:00pm and closed on year end and new year.
Official Website