The Hikawa Maru is a historic Japanese ocean liner that is permanently docked at Yokohama's Yamashita Park. With a long and chequered past the ship today serves a fascination historical tourist attraction.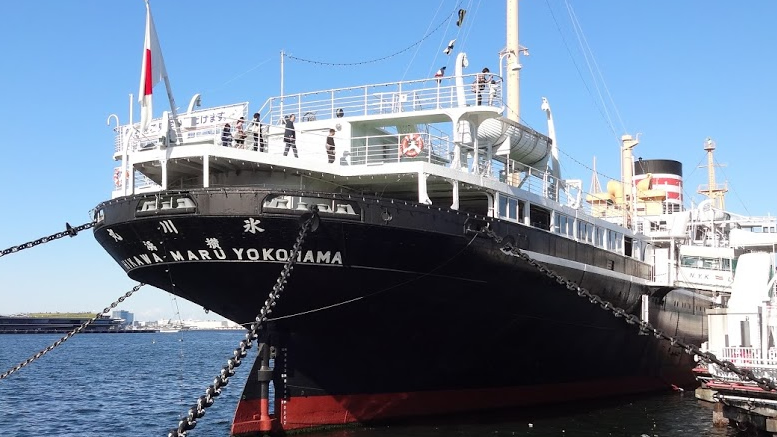 Launched by NYK Line in 1929 the Hikawa Maru was launched in the era when ocean liners ruled the waves, and along with 2 sister ships she regularly transported passengers and cargo backwards and forwards between Yokohama, Vancouver and Seattle. During the Second World War the Hikawa Maru was converted into a hospital ship and survived the war despite some close calls with mines.
With the war over and Japan under US occupation the ship was requisitioned to help ferry former Japanese soldiers back from the Pacific, Korea and China. This new life for the ship ended up taking a bit over a year to complete, a task that may have been made harder since the Hikawa Maru was one of only two Japanese passenger ships that survived the war.
Finally in 1947 the Ship was returned to NYK Line who used her as a cargo ship until refitting her to her former duties as an ocean liner in 1953. The Hikawa Maru remained as an ocean liner on her pre-war route until 1960 when she was finally decommissioned.
Since her decommission the Hikawa Maru has remained on display as a museum ship in her former home port of Yokohama. Restored in 2007, today visitors can take a self-guided tours all over the ship from the wheelhouse right down to the engine room. The magnificent art-deco features of the passenger lounges and first class facilities while opulent in their day seem spartan by today's standards and provide a fascinating look at life aboard a 1930s ocean liner. Most parts of the upper decks are fully accessible too and provide a fantastic photo opportunity with views of Minato Mirai 21, Marine Tower and Yamashita Park.
The NYK Hikawa Maru is located in Yamashita Park near the sea bass terminal and is a 3 minute walk from the No. 1 exit of Motomachi-Chukagai Station on the Minato Mirai Line. Alternatively you can take a leisurely boat trip on the Sea Bass waterbus from either Yokohama Station East Exit, of Minato Mirai 21 or Pier Aka-Renga at the Red Brick warehouse. The NYK Hikawa Maru is open from 10:00 to 17:00 every day except Mondays, at the time of writing the entrance fee to the the Hikawa Maru was 300 yen for adults 200 yen for seniors and 100yen for school children.