Situated in front of Landmark Tower of Yokohama's Minato Mirai 21 District is the Yokohama Port Museum. The sails of its star attraction, the sail training ship Nippon Maru's tower above the museum and have become an iconic part of Minato Mirai 21's landscape.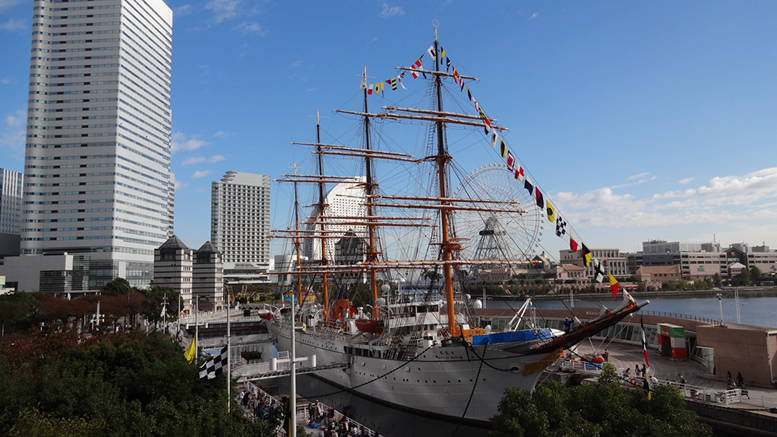 The waterfront district of Minato Mirai 21 was in fact a busy port until it was converted into a park in 1985. A few years later the now remodelled Port Museum was opened as the Yokohama Maritime Museum, to complement the sailing ship that now calls the park home.
The Port Museum is made up of two zones known as the Port of Yokohama history zone and the Port of Yokohama rediscover zone. These zones looks back at the hundred and fifty year history of the port and the roles the port plays. The museum is housed in a semi-circular building across two levels that also house a library, a special exhibition room, a cafe and a gift shop. The museum is situated alongside the Nippon Maru ship on a small peninsular known as Nippon Maru Park that is scattered with various monuments to Yokohama's nautical past.
The Nippon Maru was built in 1930 as a training ship for cadets. Over 11,500 cadets have trained on the ship over her 54 years of service until she was retired in 1984 and given to Yokohama as an attraction for Minato Mirai. While she is no longer training people at sea her new role helps plenty of Japanese school groups learn about her and the ports history.
The Yokohama Port Museum is a five minute walk from Sakuragi-cho Station on the JR Negishi Line or the Yokohama Municipal Subway Blue Line or a five minute walk from Minatomirai Station on the Minatomirai Line. Admission to both the Yokohama Port Museum and Nippon Maru is 600 yen for Adults, while junior high school students and seniors 65 years & over are 300 yen.