Similar to many harbor cities around the world, the modernisation of huge container facilities have replaced the old central waterfront warehouses and entire precincts have been rejuvenated with modern uses. Yokohama is no exception and has not only transformed the entire city's focus towards the waterfront with an impressive new skyline, it has kept a piece of its history that any city in the world would be proud to own.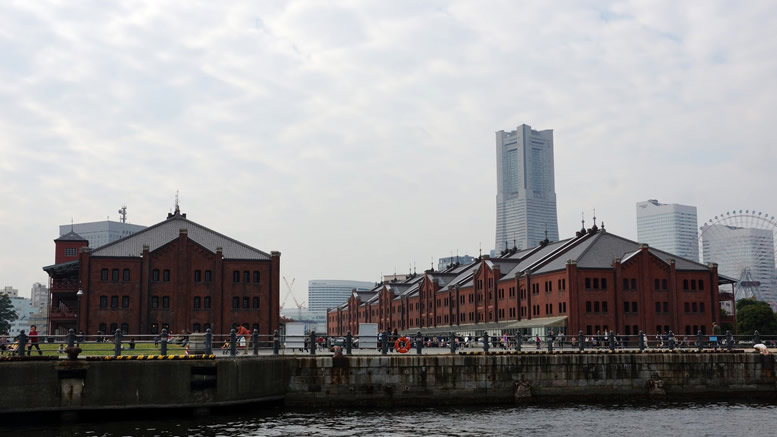 The magnificent two Red Brick Warehouses stand as a stunning reminder of the city's rich port history and shows how such magnificent old buildings can be transformed a century later into relevant and important places for future generations use and to enjoy.
The warehouses stopped being used in 1989 and nine years and millions of yen later the two buildings were returned to their former beauty. Today they are fitted out as a new tourist and leisure destination for the city.
The three story buildings house cafes, specialty stores. markets and exhibition space and the surrounding area has been paved and landscaped to make the precinct ideal for festivals, exhibitions and major events.
The first warehouse began construction in 1907 and was completed in 1911 with what became warehouse number one beginning construction in 1908 with a completion date of 1913. This building features Japan's first cargo elevator and is made up of over 3.1 million red bricks. During redevelopment modern safety requirements were seamlessly incorporated into the design to provide earthquake and fire proof technologies.
The great Kanto Earthquake of 1923 saw extensive damage to the middle of Warehouse No 1 but no serious damage to the 2nd warehouse, making it one of Japan's few remaining brick building from before that period. The warehouses also survived World War II with the US using the warehouses after the war ended in 1945 as a military supply depot. After the occupation the stores were used for wool, public transport, tires and even synthetic resins.
During the 1970's as the use for the sheds declined, their fate hung in the balance with some wanting them pulled down and the land redeveloped. As the Minato Mirai 21 project gained momentum, the historic value of the warehouses was acknowledged and they were saved to be restored with more than 5 1/2 million people visiting them each year.