One of the busiest stations in the Kanagawa Prefecture, Yokohama Station is a large railway station located in Yokohama's CBD. Despite not being directly connected to the Shinkansen bullet train, Yokohama Station is one of the main interchange stations for the Yokohama area.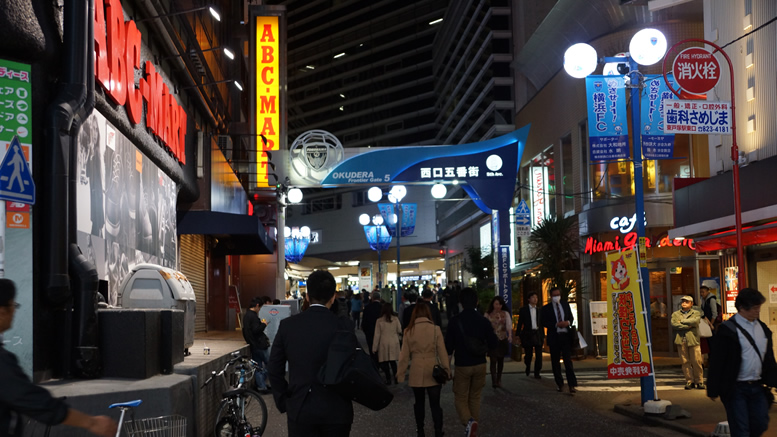 The area surrounding Yokohama Station is made up of several departments stores, hotels and plenty of downtown shopping. Notable department stores include Takashimaya and Sogo with Sogo having its own Museum of Art on its 6th floor. Other major stores well worth a look are the huge technology stores Yodobashi Camera and Bic Camera while Tokyu Hands can only be described as a cross between a hobby shop, a gift shop and a hardware store. Also sprawling underneath the station is a large shopping centre known as The Diamond that connects directly to some of the large stores mentioned above. Make sure you don't get lost in the underground shopping centre and head to the streets surrounding the station area that are regularly closed to traffic. Here pedestrians can roam the amusement arcade and restaurant filled streets without dodging cars.
Yokohama station is the main interchange for the area with all local rail and subway lines passing through or nearby the station. A large bus terminal and taxi rank also operates from the west exit while the "seabus" ferry operates from near the East Exit to Minato Mirai 21 and Yamashita Park.
The high speed nature of the Shinkansen bullet train means that it was not possible to connect the Shinkansen directly to central Yokohama instead it is connected to a station at the outer suburb of Shin-Yokohama. From here you can transfer to one of two JR lines that will take you to Yokohama Station or nearby Sakuragicho, a popular stop to access the tourist area of Minato Mirai 21.
A popular alternative to access Yokohama Station from Tokyo would be to take any of the 6 local lines from Tokyo. depending on where you are coming from in most cases you will find using a local line to get to Yokohama Station is cheaper and just as fast if not faster due to not having to change trains at Shin-Yokohama.
From Ikebukuro, Shinjuku and Shibuya you can take the JR Shonan Shinjuku line to Yokohama or the Tokyu Toyoko line from Shibya. From Tokyo and Shinagawa the JR Tokaido, JR Yoksuka Line and JR Keihan-Tohoku Line are a great choice with the later also serving Ueno. Another line from Shinagawa to Yokohama is the Keikyu Railways line that also has stops at Haneda Airport and Kawasaki.