Also known as Shinsaibashi-suji, Shinsaibashi is a popular shopping street featuring one huge long undercover strip mall that stretches out nearly a mile. This shopper's paradise is packed with hundreds of stores selling everything from expensive chic European designer fashions and traditional kimonos to stores selling 200 Yen T-Shirts.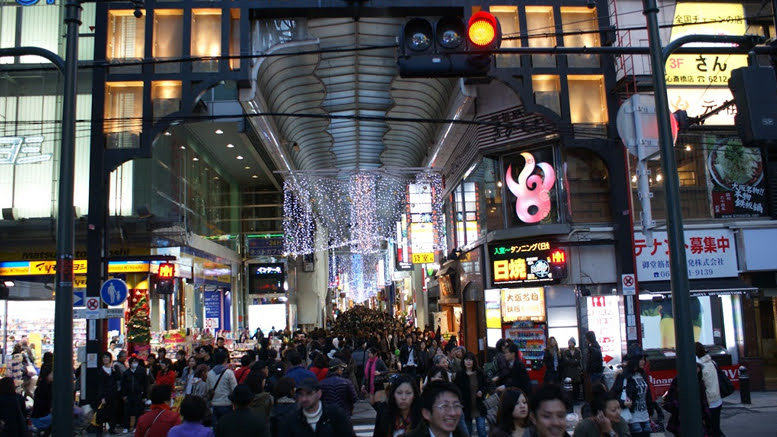 The shopping precinct dates back nearly 400 years when the area was established during the Edo Period. Today, it is a diverse mix of fashion, household goods, toys, novelties, food and just about anything you can think of. Popular with the local fashionable youth, there are of places for the beautiful people to hang out to be seen. The McDonalds has a room at the front of their store where the beautiful can be viewed just like mannequins.
For those who get a bit hungry, thirsty or just need to escape from the thousands of shoppers for a few moments, along the way there are quite a few cafe's and some of the smallest bars on the planet with only enough room for one or two customers at a time. These bars are not only quite a novelty, but also a great place for a refreshing beer.
Many of the large Osaka department stores including Sogo and Daimaru stores also hang off the mall. These stores offer huge food courts and everything you would expect to buy in a large store. The Sogo store is one of Japan's most beautiful shopping experiences with a 12 floor atrium and waterfall. The centre also has a rooftop park with magnificent gardens as well as some amazing artwork.
For those wanting to shop for something a bit less exclusive, there are several 100Yen shops which are great places to pick up a bargain. These shops often stock some weird and funky stuff, for as little as 100 yen you can pick up some great gifts to take home. The stores sell all sorts of products confectionery, clothing, household goods and stationery etc, all for only 100 Yen.
The district is one street to the east of Midosuji Avenue, running across Dotombori Bridge and Osaka's nightlife district. Sinsaibashi is also in easily walking distance to American Mura the American Village which is well worth a visit. You can reach the area buy train stopping at the Shinsaibashi or Namba Station.