Akihabara Electronics town is geeks paradise, it's a whole suburb dedicated to electronic gadgets and gizmos, from DVD and MP3 players to cameras, to computers and robotics. The amount of product on display in this suburb will amaze. There are thousands of stores, from giant department stores right down to the smallest booth selling electronic equipment.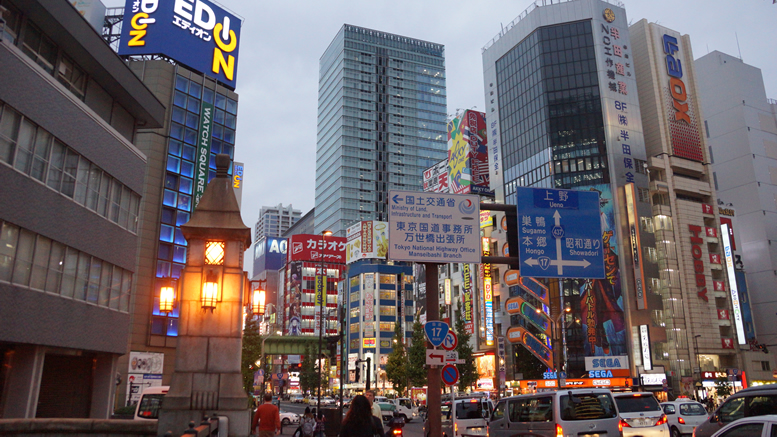 The streets and lanes of Akihaba are jammed packed with electronics, some are models we are familiar with but many are produced especially for the large Japanese market. There are the expected things like cameras, phones, LCDs and Plasmas as well as the more unusual items like electronic toilet seats and USB memory sticks shaped like sushi or rubber duckies.
Most of the Duty Free shops are crammed around Akihabara station, with more shops filling the blocks either side of Chuo Dori to the north. This part of Chou Dori was once closed to traffic on Sundays, but the 35 year old practice was stopped in 2008 after the Akihabara Massacre. The Sunday Hokōsha Tengoku (pedestrians paradise) resumed in early 2011. Open to pedestrians from 1pm on Sundays, it is an excellent time to visit the area and see the Japanese Otaku (geeks) flocking to the area to buy the latest computer game, comic book or model train. There have also been many impromptu street performances along Chou Dori in the past.
There seems to be regions of the suburb which specialise in certain products, there is an area which has DVDs, one that deals in security systems, computers, robotics, audio equipment, home appliances and so on. There are even good second hand shops, which have some many excellent quality items at reasonable prices.
Mobile phones are in the thousands, just about every store has hundreds if not thousands on display, all with features we have never seen before, but unfortunately, most of these phones are not much use outside of Japan.
In 2005, Japan's largest electronics store "Yodobashi Camera Co" opened next to the station, with over 32,000 square meters of display space there are over 600,000 items on sale.
The Akihabara area is also known for its vast range of adult products and world famous Magna cartoons and art. There are quite a few places called Magna Kissaten (or comic cafes), here you can read comics, watch DVDs and surf the internet. Another unique Japanese business is the cosplay cafe, where the waitresses dress up like French maids. You can often find some of the maids out on the streets of Chou Dori trying to attract customers.
One easy thing about shopping in Japan, is just about everything is labelled with the price, there is no bargaining, just pay the price (usually only with cash as many places don't take cards) then have it wrapped and then wrapped again, a bag and a few friendly bows and you are on your way. Just remember to carry enough cash with you, as ATMs which take non Japanese cards are scarce. The post office, Citi Bank or 7-11 is the easiest place to withdraw cash from your Visa Card.
The electronics area starts at the Akihabara Station and is easily accessible from the JR Line Keinhin Tohoko, Yamanote and Sobu lines, and from the Metro Hibiya Line or the Tsukuba Express line.