The Tokyo Dome City is home to a massive entertainment complex including the Tokyo Dome Arena, Baseball Museum, Theme Park, Shopping Complex and the 41 floor Tokyo Dome Hotel.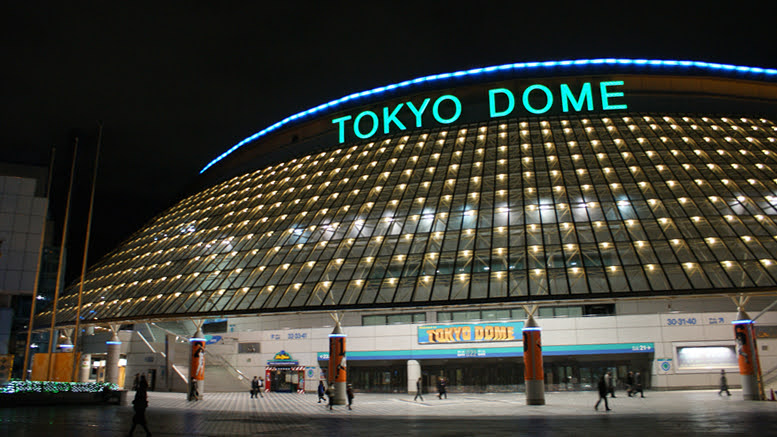 The Yomiuri Giants baseball team call Tokyo Dome their home, and play about 60 games there each season, but the dome is a multi-purpose stadium holding 55000. It has played host to a wide range of sporting events including football, pro wrestling, boxing, kick-boxing and other martial arts.
Many international superstars have also played the Tokyo Dome, including Madonna, Michael Jackson, The Rolling Stones, and U2.
The stadium construction is unique, the roof is actually a flexible membrane which is all supported by air inside the stadium. Air is constantly blown into the dome by a pressure fan, keeping the air pressure inside the dome some 0.3% higher than the air outside, thus holding up its covering membrane. The dome is sometimes called the "Big Egg". The dome was built in 1988 on the site of the Korakuen Stadium.
The Baseball Hall of Fame museum was the first of its kind in Japan and opened way back in 1959 as part of the old stadium. The museum was rebuilt as part of Tokyo Dome and now has a fantastic and memorable display. Baseball came to Japan from the USA in the late 1800's and has been popular ever since, many of the professional league USA teams have used Tokyo Dome as season openers or practice matches.
The Korakuen Amusement Park at the centre is jammed packed full of high octane fun with a series of thrilling roller coasters including the world's first hanging-type linear roller coaster, and of course the ever popular Ferris wheel. Another favourite is an indoor roller coaster ride similar to Disney's Space Mountain.
The large shopping complex called Laqua is outside the stadium and houses shops, restaurants even a spa. The attached Kōrakuen Hall is home to wrestling and martial arts.
Opened in 2000 the Tokyo Dome Hotel has magnificent views on a clear day of the Imperial Palace, Tokyo Tower, Tokyo Bay and towering Mt. Fuji to the south. The northern view gazes over a panorama of the Kanto plains including Tokyo Dome City below, the parks and greenery of the Ueno and Yanaka districts, and Mt. Tsukuba on the distant horizon.
To reach the Tokyo Dome city by rail catch the JR Chuo-sobu Line to Suidobachi Station or, Mita Line to Suidobashi Station or Marunouchi Line to Korakuen Station. The Tokyo Dome is only a few stops over from Akihabara on the JR Chuo-sobu Line.