Ameyoko Market is one of the best Asian Bazaars, here you will find a little bit of everything, and much of it at bargain basement prices. Once a black market, it has become one of Tokyo's most vibrant places with a huge array of food, clothing, jewellery, toys and cosmetics. You can buy anything from the latest pair of jeans to seaweed or pickled octopus tentacles.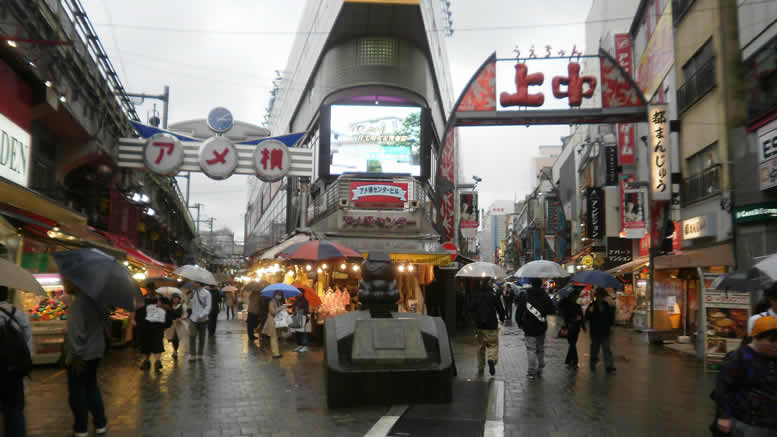 Tucked along a narrow lane underneath the Yamanote railway lines lay this amazing market. The scenes are a reminder of the film Blade Runner with a hive of bustling activity and the old meeting the future in a noisy mix of hawkers, pounding music and strange smells.
Ameyoko is a great place to do your gift shopping; things are relatively cheap and there are items you have never seen before and probably never will again. There is plenty of toys and clothing, with many "Jinglish" worded t-shirts. Some of the translations you beg to wonder, "Mellow Bees for Humanity", "Koalas are spekial"(sic) and "I love lucky" were some of the more memorable on our last visit.
The market has some tasty hawker style food to sample, yaktori chicken sticks, bbq prawns on a stick and some of the freshest fruit is in plentiful supply, all of which smells and looks too good to pass up. The chopped juicy melon is a must.
The market started up after World War 2 and was basically a black market operation, which it is no longer; it was set up next to the railway terminus to attract the thousands of people coming to Tokyo from the countryside after the war.
Near the end of the market is the seafood section, here you can buy just about any sea creature you could imagine, plus many you can't. There are tentacles, shell fish, seaweed and other weird and wonderful things. The meat section is just as fascinating as there is just about every part of the animal on sale; from the prime meat cuts to chopped lungs and other organs, it's not for the faint stomach. Fortunatly there are plenty of spice shops and tasty bbq's nearby to drown out the smell.
In the streets surrounding the market, there is a vast variety of small restaurants and bars where you can have an inexpensive meal and a few cold beers. It's a great place to relax after your bargain shopping.
Much of Ameyoko Market is tucked under the tracks of the Yamanote line between Ueno Station and Okachimachi station; we recommend taking a stroll along between the two stations.