The Tokyo National Museum is Japan's premier collection of Japanese Artwork and treasures. There are two main exhibitions on display, one being the regular exhibition and the other a special exhibition where fixed theme exhibitions are held about five times a year.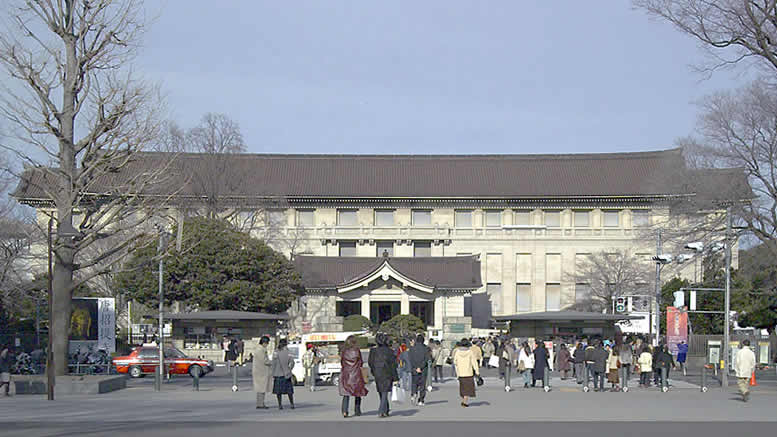 The main exhibition is made up of four main galleries; The Honkan Japanese Gallery features the beauty of Japanese art with a chronological exhibition showing magnificent examples of the history of art in Japan. There are some spectacular examples of sculpture, ceramics and lacquer-ware. The collection is shown on two floors, with the first showing swords, armour, masks and metal work while the second has paintings, screen printing, lacquer-ware and beautiful calligraphy.
The Toyokan Asian Gallery has artifacts from all over Asia. Opened in 1968, the Toyokan Gallery contains a fascinating collection of non Japanese Eastern Art. Much of the exhibition is made up of artifacts from China and Korea with a sprinkling of other countries. There are a number of beautiful Buddha including an eleven faced Buddha from Xian in China dating back to the 11th century. There also is some Korean art that dates back to 100BC. One prized Korean piece is some daggers dating from the Bronze Age.
The Heiseikan exhibition opened in 1999 and was built to house a superb collection of Japanese archaeological artifacts with items dating back to 10,000 BC. Much of the collection is ceramic with some beautiful items on display including prehistoric figures, warriors, bowls ceramic animals and the like. There are many Haniwa figures on display. Haniwa means clay ring, which was a process used to create beautiful earthenware sculptures that were made around the 4th to 7th centuries.
The Gallery of Horyuji Treasures houses, as the name suggests, Horyuji Treasures, these are ancient Buddhist arts which were donated to the museum in return for finance to repair the Horyuji temple. There are more than 300 items in this collection including Buddhist statues, masks and beautiful screens.
The museum sits on the edge of Ueno Park near the Metropolitan Art Museum and National Museum of Nature and Science. The Ueno Zoo is also housed in the park.
The museum is easy to reach by rail; a few choices include the JR Yamanote Line with a 10 minute walk from Ueno or Uguisudani Station. The Ueno metro station is about a 15 minute walk and is also serviced by Tokyo Metro's Ginza (G16) and Hibiya line (H17).
For further information visit http://www.tnm.jp/.